Date: August 2018
Location: Annapolis, Maryland, USA
Name: Will be Graduate Annapolis in autumn 2019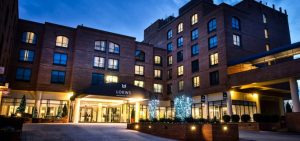 No. of Keys: 215
Seller: Loews
Buyer: Adventurous Journeys (AJ) Capital Partners.
The hotel will operate independently as Hotel Annapolis while renovations take place.
Once complete the hotel will be converted to Graduate Annapolis, part of the Graduate Hotels collection.
The six-story hotel is located in downtown Annapolis' Arts District and is less than a mile from the U.S. Naval Academy campus.
Situated on West Street at Lafayette Avenue in the heart of downtown Annapolis, the hotel is surrounded by numerous museums, historic sites and art galleries.
Created for travellers "who seek memory-making journeys", Graduate Hotels is a collection of hotels that reside in university-anchored cities across the country.
There are currently 11 open and operating hotels across the U.S. and an additional nine hotels under development slated to open by 2020.
"We could not be more thrilled about this acquisition and about bringing Graduate Hotels to Annapolis," says Tim Franzen, President of Graduate Hotels.
"This will be our first foray into the home community of a U.S. military service academy. We are looking forward to serving the friends and family of those who so bravely serve our Country."
The hotel will undergo a comprehensive renovation to convert it to Graduate Annapolis, which will touch all guestrooms, common areas, the restaurant and the hotel's 20,000 square feet of flexible, indoor and outdoor meeting and events space.
THPT Comment: An interesting new hotel company that has gone the full hog on university locations.
First Seen: Hotel News Resource