Date: August 2018
Location: Dunblane, Scotland, UK
Name: Cromlix House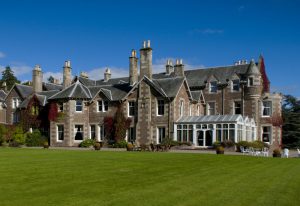 No. of Keys: New 270 sq mtr tearoom plus 27 new rooms. Currently 10 rooms, 5 suites and one-bedroom gate lodge.
Owner: One Mr Andy Murray, a rather good tennis player (two time Wimbledon Champion)!
Cromlix House, close to the tennis star's home town of Dunblane, submitted a planning proposal in April to create a new 270 sq mtr tearoom and 27 new bedrooms, with the existing facility operating at 'the limit of its space'.
Also included in the development will be a new function suite and a gym – designed by Murray himself – with the new rooms being built within a rundown walled garden in the grounds of Cromlix House.
Now the extension has been given the go ahead by Stirling Council, saying the new addition will boost local economy and create more jobs at the hotel, which employs 70 people.
Planning bosses also said that once open, the facility would help increase turnover to a level where the 'feasibility of running the business on a long-term basis is more sustainable'.
Granting permission in a written decision, the owners said: "The hope is the development, especially of the Cromlix walled garden, would encourage more visitors to the area for weddings and events and therefore have a knock-on effect to other business in the area."
Cromlix House was acquired by Andy Murray in 2013 for £1.8m. After an extensive restoration process, the hotel and its Albert Roux restaurant opened in 2014 and have since won a string of awards.
THPT Comment: You might ask how does he have time to manage a five star hotel in between games of tennis! well obvious really, it is managed on behalf of Murray by Inverlochy Castle Management International, who 10 others, all in Scotland, under their belt…headed up by Dr. Chai as Chairman and Norbert Lieder as MD…and the illustrious John Green running sales & marketing.
First Seen: Boutique Hotelier