Date: August 2018
Location: Portland Street, Manchester, UK
Name: Hotel Brooklyn – opening Spring 2020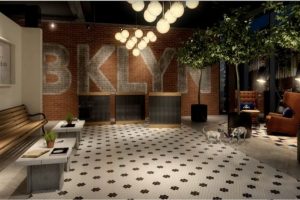 No. of Keys: 191
Seller:
Buyer: Bespoke Hotels, the UK based (largely) management hotel company. The bosses of Manchester's luxurious Hotel Gotham have revealed plans for their new Manchester site – the New York-themed Hotel Brooklyn.
Work is now underway on the entirely new build hotel on Portland Street, in the space next to the Townhouse Hotel, owned by Singaporean Fragrance Hotels and managed by Bespoke.
Bespoke say Hotel Brooklyn will be an "homage to the Golden Age of New York City" and will feature "innovative" bedrooms as well as a panoramic rooftop bar called Brooklyn Heights.
It will also boast Runyon's restaurant, inspired by the short stories and plays of Broadway titan Damon Runyon, as well as an events space that can accommodate over 200 people.
Bespoke will spend £45m on the construction, which is being overseen by Marshall CDP.
The hotel's unique interior design has been created by Squid Inc, who were behind the quirky Art Deco-themed interiors of Hotel Gotham on King Street.
In newly-released images of how Hotel Brooklyn will look, the lobby boasts exposed brickwork and the letters "BKLYN" dominating the reception area which also features planted trees.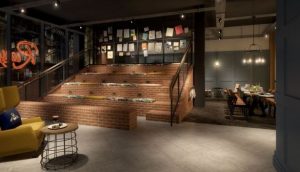 An image of Runyon's restaurant shows a laidback vibe with brick step seating and an eclectic mix of furniture, while the hotel's boutique bedrooms are spacious and chic in muted grey and camel colours.
Price: £45m
Price per Key: £235,602 plus land cost
THPT Comment: Bespoke did fab with their first owned hotel in Manchester – The Gotham, and we expect no less with Hotel Brooklyn.
First Seen: Manchester Evening News