Date: April 2018
Location: Macedonia Square Sofia, Bulgaria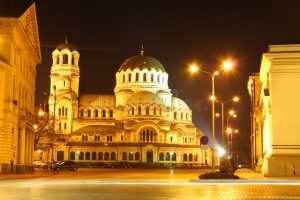 No. of Keys: 232
Site: Empty land at the Solnier Market, Sofia. The investment is estimated at around 50m euros. Investor of the site is Itowers Development EAD, registered in Bulgaria, behind which is the Italian Vittorio Gori.
The land of about 5 hectares for the future Marriott Hotel was purchased in 2003 for nearly BGN 7 million from the Real Estate Company, Estate AD.
Funder: Black Sea Trade and Development Bank (BSTDB) and Bulgaria's Postbank, a unit of Greece's Eurobank (EURBr.AT), will lend 58.3 million euros ($72 million) for the construction of the first Marriott hotel in Bulgaria, officials said.
Developer: The 12-year loan will be made to I Tower Development, a special-purpose company set-up in Bulgaria to build the 107 metre-high hotel, which will be on Macedonia Square in downtown Sofia and is expected to be completed in 2020.
THPT Comment: Director of International Hotel Development for Europe for Marriott, Paul Rosenberg said the world's largest hotel chain could also consider building hotels in other parts of Bulgaria. "We are looking at opportunities to develop the activity in Plovdiv, Varna, other places along the Black Sea coast and why not in the mountain resorts," he said.
First Seen: Reuters