Location: Northern bank Zambezi River, Opposite Mana Pools World Heritage Site, Zambia. Lusaka and it's international airport is 120 km away, the hotel picks up guests for a 40 minute transfer from the Royal Airstrip, by game-drive vehicle 
Name: Baines' River Camp
Guide Price: US$6m
No. of Keys: 8 suites plus one 2-bed family unit
The Opportunity: To purchase this well-established safari lodge business.
The tranquil setting, intimate atmosphere and luxury Explorer Suites make this colonial safari camp the ideal location for an unforgettable holiday or corporate getaway. A comfortable sofa on the private verandah of your suite invites you to put your feet up, relax and enjoy breath taking views across the Zambezi, Africa's fourth largest river.
The Lower Zambezi Valley attracts visitors from all over the globe and the current owners have taken on the responsibility to preserve this wilderness area for many generations to come. Baines' River Camp is a founding member of the Lower Zambezi Conservation Trust, a partnership with the Community. Whilst staying there, one directly contributes towards the Trust's objectives of both conserving our wildlife and improving the lives of our community through environmental education and skills development programs.
Combined, the Lower Zambezi National Park and adjacent Eastern Chiawa Game Management Area make up 4,200 square kilometres of protected wildlife area, home to large herds of elephant, buffalo and antelope, a variety of predators including lion, leopard and hyena and many other mammal species.
• The area's 374 bird species includes water, miombo and migratory birds.
• The Zambezi River itself offers spectacular game viewing, bird watching, angling and
canoe safaris.
• There are no fences around or between the two wilderness areas and wildlife roams
freely.
• Set against the backdrop of the Zambezi Escarpment, with a large variety of dense
vegetation, open plains and wide views across the Zambezi River, this is undoubtedly one of
Africa's most beautiful wilderness areas.
• Rains are very seasonal and when they set in around the end of December each year,
tourism activities come to a halt in the Lower Zambezi Valley until the end of February. Hence, we are operational from 01 March – 15 December.
The business offers both river and land based safari activities:
• River cruises make for relaxed game viewing, photography and bird watching. You
will be entertained by baboons, hippo, elephant, crocodiles, water buck and the occasional buffalo on the river bank and the Zambezi's various islands.
• Sunset cruises make for a spectacular end to a day in the bush.
• Anglers visit the Zambezi River especially to catch Tiger Fish, a fearsome game
fish. Strict catch and release policy. (01 September – 30 November)
• Canoe safaris give a totally different perspective to the African wilderness. (01
June – 15 December)
• Your best chance to see and photograph predators, large herds of buffalo etc. is on
a game drive in an open viewing vehicle. (01 June – 15 November)
• Walking safaris are not for the faint-hearted and are best suited during winter
months. On a walking safari the focus is mainly on tracks, vegetation, birds, butterflies etc. (01
June – 30 September)
Throughout the season, they offer a variety of safari workshops, hosted by internationally renowned expert guides who are passionate about the African bush. Generally workshops are limited to 6 participants and include 4 nights accommodation on a fully inclusive basis, domestic flights between Lusaka and the camp, Lower Zambezi National Park entry fees, community and conservation levies.
The suites all include air conditioning and ceiling fan, large verandah with comfortable seating, en-suite bathroom with walk-in shower (2 suites offer additional outdoor shower), bathroom amenities, mini-bar and coffee & tea facilities, hairdryer, torch, personal safe, personal insect repellent spray and cream, insect repellent room spray.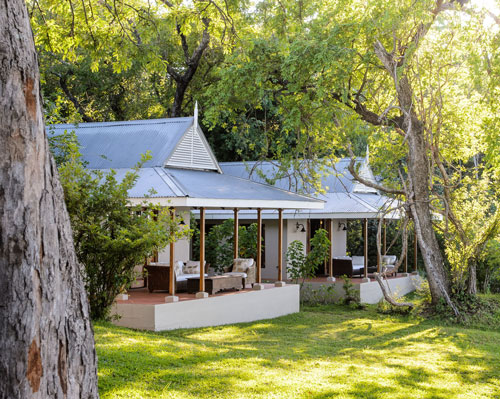 The mainly open plan design of the lodge area is based on a colonial style of a bygone era. Guests enjoy magnificent views of the Zambezi River from the Selous Bar, the lounge and dining areas and from the swimming pool. Facilities at Baines' River Camp include: Indoor & outdoor dining. pool, boardroom & conference facility, wireless Internet & intermittent cellular network and library and spa/massage treatments in-room.
Guest typically combine a three-night stay at Baines' River Camp with nine nights at three other locations to take in the Victoria Falls, South Luangwa National Park and a private safari river cruiser trip.
Main Picture: The elegant suites at Baines' River Camp
Current Owner: The property has been lovingly run by the Fetherby family since it opened in 2011, having bought the site in 2005.
Flag and Management: Both free to the new owner
Financials: 2019 and 2020 numbers available upon signing LOI/EOI
Tenure: 99 year-lease…76 years left to run
Agent: Local agent in partnership with THPT
Guide Price: US$6m
Date Posted: March 2021
THPT Comment: An opportunity to secure one of the best safari lodge camps in the area, rated very highly against the competition, with a fab repeat customer record and a TripAdvisor rating of 5th of 19 Lodge type accommodations in the Lower Zambezi National Park area, with 104 "excellent" and 4 "very good" with zero "average, poor or terrible" ratings.
This is a new feature on the THPT site…. Hotel & Serviced Apartment owners can be naturally reticent in publicising their property is for sale…for confidentiality reasons, for staff and current client reasons, so the properties featured in this section will either be "generic" or "name specific"
Each fortnight we mail the opportunities posted that week, but check-out the tab "Hotels Available" and call us for details of "Under the Table" – deals not posted on the site at all
The Hotel Property Team (THPT) is a small group of highly experienced business professionals. Between us, we provide a range of skills and experience which is directly relevant to those involved in the hotel property market.
For more information – Visit www.thpt.co.uk or email info@thpt.co.uk.
MISREPRESENTATION ACT 1967. This information is provided as a general guide and is not intended to be constructed as a statement of fact upon which interested parties can rely. All interested parties should make their enquiries by inspection or otherwise. Neither The Hotel Property Team (trading name of Impetus Marketing 2006 Ltd) nor any person in our employment has the authority to make, give or imply any representation or warranty whatsoever relating to the premises referred to in these particulars. These details do not constitute any offer, contract or any part thereof and all negotiations relating to the premises should be conducted through THPT.