Main Photo: Market Street Hotel, Edinburgh
Date: February 2018….updated March 2019
Location: Edinburgh, Scotland, UK
Name: Market Street Hotel Edinburgh – four star…opening June 2019
No. of Keys: 98, with an exclusive top floor Champagne Lounge
Seller: The hotel is being built in a site which has remained vacant for over 50 years (originally residential then more recently a garage), on the border of Edinburgh's Old Town at 6 Market Street, next to the City Art Centre. It will offer spectacular panoramic views across the Waverley Valley.
Buyer: Carlton Hotel Collection with ten hotels, mostly in The Netherlands – with one in Glasgow and one in Belgium…. Construction work started in May 2016.
The Market Street hotel was developed in partnership with property development and investment business EDI Group, a wholly owned subsidiary of the City of Edinburgh Council.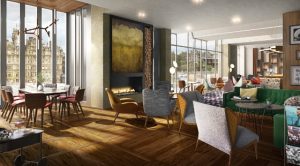 The hotel will be the first member of Design Hotels in Scotland. The interior design of Market Street comes from the award-winning designers FG Stijl who have offices in Amsterdam and Dubai.
The group has described the site as "a huge design challenge". It is surrounded by historic buildings on three sides, situated on a busy street, next to Waverley station, and is located within a Unesco World Heritage Site and the city's Old Town Conservation Area.
Price: £20m (land and build)
Price per Key: £204,082
THPT Comment: Carlton, and it's parent company, the Foundation Group, who also own Glendola Leisure, operator of a small number (20) of whacky pubs including Waxy O'Connor in London's West End, have a slightly oddball collection of locations, but it seems to work! Headed up by Peter Salussolia as Chairman and Alfred Bree, his MD.
First Seen: Carlton Hotel Collection website
Update: The Caterer