Date: July 2018
Location: Darwin, Northern Territory, Australia
Name: Darwin Westin – opening 2021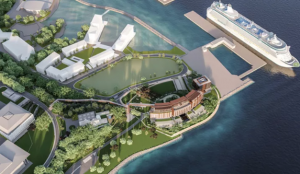 No. of Keys: TBA
Seller: In 2016, it was reported that the State Government had gifted 2.9 hectares of the former Toga land for the hotel project as well as an "18-month call option over an additional 1.5 hectares of the former Toga land on commercial terms".
Buyer: Chinese property developer Landbridge Group has received planning approval for a $200 million luxury hotel on Darwin's foreshore.
Landbridge, who controversially bought the Port of Darwin for $506 million on a 99-year lease in 2015, has now been granted approval to build the Darwin Westin.
The 2015 deal outlined a strategic partnership between the NT Government and Landbridge with both parties' attempting to stimulate "economic growth and development of the Northern Territory".
Landbridge's purchase of the port lease triggered discussion about foreign ownership of critical infrastructure and earlier this year the federal government established a Critical Infrastructure Committee to oversee future deals.
"This government is doing everything we can to create jobs, attract private investment, revitalise our CBD and grow our population through infrastructure investment, tourism and innovation – this is all part of our plan to secure the Territory's future," Northern Territory chief minister Michael Gunner said.
"The hotel will be a drawcard for high-end business and leisure visitors and give Darwin a significant edge in the lucrative business conference market, growing our relationships with our international neighbours and potential private investors."
The approved development will now see a Bates Smart-designed hotel will be operated by US hotel chain Westin Hotels and Resorts.
"Our intention is for the hotel to embody the spirit of Darwin, the land and nature and to create an identity that is uniquely connected to the Northern Territory," Bates Smart studio director Cian Davis said.
The Territory Labor government is also investing $17 million in public infrastructure which includes a 200m Skywalk to connect the Luxury hotel to the CBD.
A seven-storey residential tower containing 24 apartments was also approved as part of the project.
The development is expected to create up to 500 jobs for Territorians during construction and a further 150 jobs ongoing in operation and local businesses who can tender for contracts.
THPT Comment: A welcome name and style of hotel for Darwin, who currently boast very few, if any five star hotels in the CBD.
First Seen: The Urban Developer