Date: August 2018
Location: 8001 28th Avenue South, Saint Paul Airport, Minneapolis, USA
Name: Cambria Hotel Minneapolis-Saint Paul Airport – opening 2019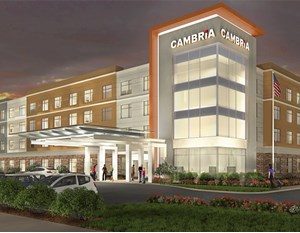 No. of Keys: 170
Seller:
Buyer: Ceres Enterprises, LLC and the Orlean Company will own and operate the hotel.
Ceres Enterprises is a leading developer and operator of premier hotels in the Midwestern United States whose portfolio includes Marriott, Hilton, and Choice Hotels.
The Orlean Company, a leading Ohio-based real estate developer with extensive ground-up commercial real estate experience, including senior-care and assisted-living housing, affordable and market-rate multifamily housing, and commercial retail and for-sale housing in Northeast Ohio.
Choice Hotels International, Inc. finalised an agreement with C&O Bloomington, LLC to develop the Cambria Hotel Minneapolis-Saint Paul Airport.
The hotel will be the third Cambria property to enter the booming area, joining the already opened Cambria Hotel Minneapolis Maple Grove and the future Cambria Hotel Downtown Minneapolis.
The hotel is situated in a mixed-use corridor adjacent to the Mall of America, offering guests easy access to nearby dining, retail, and entertainment and is a 10-minute drive to the Minneapolis-Saint Paul Airport, within walking distance to the Light Rail and nearby to several corporate offices, including Ecolab, General Mills, Target, and U.S. Bancorp.
"The Cambria Hotel Minneapolis-Saint Paul Airport property represents another milestone for Cambria Hotels as we continue to grow the brand in markets that offer a healthy mix of both business and leisure demand," said Mark Shalala, vice president, upscale brands, Choice Hotels.
"The Twin Cities have one of the nation's highest concentrations of Fortune-500 companies, as well as a thriving arts and culture scene. We look forward to working with Ceres Enterprises and the Orleans Company to bring another outstanding Cambria hotel to the region."
"The Cambria Hotel Minneapolis-Saint Paul Airport hotel is the fourth Cambria property to join our portfolio and is a testament to our confidence in the brand and the strength of our continued collaboration with Choice Hotels," said David Crisafi, president, Ceres Enterprises, LLC.
"Minneapolis boasts the second-largest economy in the Midwest, making it an attractive location for Cambria development. We're fortunate to be a part of the brand's rapid expansion in key markets throughout the country."
"Cambria hotels are thoughtfully designed to provide guests with a local feel and distinctive upscale experience. Choice Hotels has been an incredibly supportive teammate for this project and others, and we're certain guests visiting the Minneapolis-Saint Paul area will love the unique Cambria product," said David Orlean, president, Orlean Company.
Choice Hotels International, Inc. has more than 6,800 hotels, representing more than 550,000 rooms, in over 40 countries and territories as of March 31, 2018.
THPT Comment: Cambria Hotels is rapidly expanding in major U.S. cities, with hotels open in Chicago, New York City, Pittsburgh, Washington, D.C., and Los Angeles.
There are more than 35 Cambria properties open across the United States, and over 100 hotels open or in the pipeline in the U.S. and Canada.
First Seen: Cision PR Newswire