Date: August 2018
Location: Miami Worldcenter, one of the largest private mixed-use developments underway in the United States, occupying 27 acres in the heart of the Downtown Miami, Florida, USA
Name: citizenM – opening 2018/19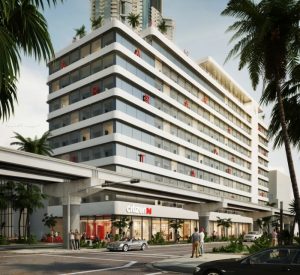 No. of Keys: 384
Seller: Nitin Motwani, managing principal for Miami Worldcenter Associates, said: "We set out to create an economic driver and international destination, Miami Worldcenter, in the heart of Downtown Miami as well as a vibrant neighbourhood that will draw locals and visitors alike.
Welcoming citizenM to Miami Worldcenter expands our reach in being able to offer an affordable yet luxuriously-designed hotel within our 'city within a city,' and is in line with our grand vision, the likes of which Miami has never seen before."
Buyer: The 12-story hotel, which will comprise 128,000-square-feet along NE 2nd Avenue between 7th and 8th Streets, will include a tenth-floor sun deck featuring a swimming pool and rooftop bar, along with a state-of-the-art fitness centre and gym on the 11th floor.
It will be located adjacent to Miami Worldcenter's pedestrian-only, open-air shopping promenade, which will be lined with world-class retail, restaurants, and entertainment options.
The hotel will also feature 1,850 square feet for societyM, the brand's signature creative spaces and meeting rooms, and a cloudM rooftop bar offering views of Biscayne Bay and the downtown Miami skyline.
Gensler Architects will be responsible for the hotel's design.
Ernest Lee, managing director, development and investment for citizenM in the United States, said: "citizenM's rollout strategy has always cantered around following our guests – a group of modern travellers who frequent true live/work/play destinations within the world's gateway cities.
"We are very excited to join the Miami Worldcenter development, a transformative project that will offer a high-quality mix of workplace, residential, dining, nightlife, shopping, conference, and transit outlets."
Spanning ten city blocks, Miami Worldcenter is a $2 billion mixed-use development reshaping the centre of Downtown Miami.
Construction on the first phase of the project, which includes the 60-story Paramount luxury condominium, the 444-unit CAOBA Class A apartment tower, and high-street retail, is now underway and slated for completion later this year.
The hotel is the third the company is planning for Miami. Earlier this summer, citizenM filed plans to build a 20-storey, 252-room hotel in the city's Brickell Financial District. In October of last year, the company also signed on to operate a 168-room hotel in Miami Beach.
THPT Comment: Well who saw that coming…citizenM, considered to be boutique, slightly whacky but not 348 rooms in a 12 storey, 128,000 sq. ft. building in a 27 acre site in downtown Miami!
By 2020, citizenM will have around 40 properties either open or in development globally – more than doubling its current portfolio.  In North America it plans to open a dozen hotels, in major cities that include Seattle, Boston, Washington DC, San Francisco, Los Angeles and Miami.
First Seen: Breaking Travel News