Location: In the North of The Maldives…
Distance from Velana Airport to Resort Island:
By sea plane : 50-55 minutes
By Domestic plane: 40-45 minutes
By Speed boat: 3 ½ hours

Name: "Island Resort" – to be renamed
Guide Price: US$65m plus taxes
No. of Keys: 150 Villas


The Opportunity: An entire island, complete with 150 villa resort and airport. The villas have been positioned for optimum views and privacy on a 7.5 hectare swathe of the island.

With a total of 150 villas, they comprise of 6 Twin Villas – floor area 250 sqm, include pool of 19.7 sqm plus twin courtyards, 100 Duplex Villas – floor area 58 sqm; the main difference between the Duplex and the Beach Villas is that they do not have a bathtub nor an open-air bathroom courtyard. In total, the Duplexes encompass 267 square metres (ground floor, first floor, communal staircase and service area). Access to the ground floor units is discreetly from the side, and access to the first floor units is from the back, via the communal staircase.
A further 35 Beach Villas and 9 Beach Villas with Pool….Each of the Beach Villas is an individual unit of 84 square metres scattered along the shoreline. They offer sea views, direct access to the beach and feature an open-air bathroom courtyard with shower.
The Beach Villas with Pool are also individual units; each offering a private pool, direct and easy beach access and open-air bathroom courtyard with shower. They cover a total floor area (including the pool) of 113 square metres.
This creates a maximum bed capacity of 300.
The size of the island is 11.69 hectares.
The resort is completely built, but not open as yet, and has been built to a 3.5 star standard, which could be easily upgraded to five star.
With several well-designed dining venues there is ample room for guests to enjoy the food and beverage offerings in a range of locations. The all-day dining restaurant has a capacity of 215 guests, while the main bar can accommodate up to 72 guests for drinks and snacks. The grill restaurant seats up to 54 guests; the pool bar/area holds 124 guests; speciality Asian restaurant and wine-tasting area holds up to 68 guests and the sunset bar can seat up to 44 guests.
The public area consists of the main restaurants and kitchen, bar, buffet area, disco, restrooms, speciality restaurant with kitchen, main pool, reception, boutique, additional restrooms, arrival pavilion, buggy station, spa with two steam and sauna rooms plus eight treatment rooms, tennis court, badminton court, recreation centre, clinic (with the Doctor's accommodation), fully-equipped gym, kids club, dive centre and water-sports centre.
On the other side of the island lies the back of house area. It features staff accommodation made up of eight buildings, containing 16 rooms. This equates to a total of 128 rooms and a maximum staff bed capacity of 400. The staff area also features 28 HOD accommodation rooms, eight executive apartments, a staff canteen, staff recreation area with gym, a staff shop and social/meeting hall, administration building, fully-equipped laundry, boiler rooms, maintenance building (with bottling plant area), cold storage and stores as well as a power house and RO plants.
Heat recovery system (upgradable), seawater cooling system, acoustic design for 65dB outside power house, SWRO 250 tons / 24 hours × 2 nos, water storage of 330 tons × 2 no, fire pump house with fire hydrant system (plus fire alarm system across entire hotel), STP : MBBR Plant 250 tons / 24 hour processing plant, water pump hose, fuel pump houses (dispensers installed; fuel storage 140 tons for diesel/6000L petrol), housekeeping huts × 4 nos have also been installed.
The infrastructure comprising of the power house, desalination building, fuel tank and water tanks have also been completed.
There is a further 17 hectares of land available within the resort to build another 36 villas, as well as a greenfield site on the island to build another whole resort! AR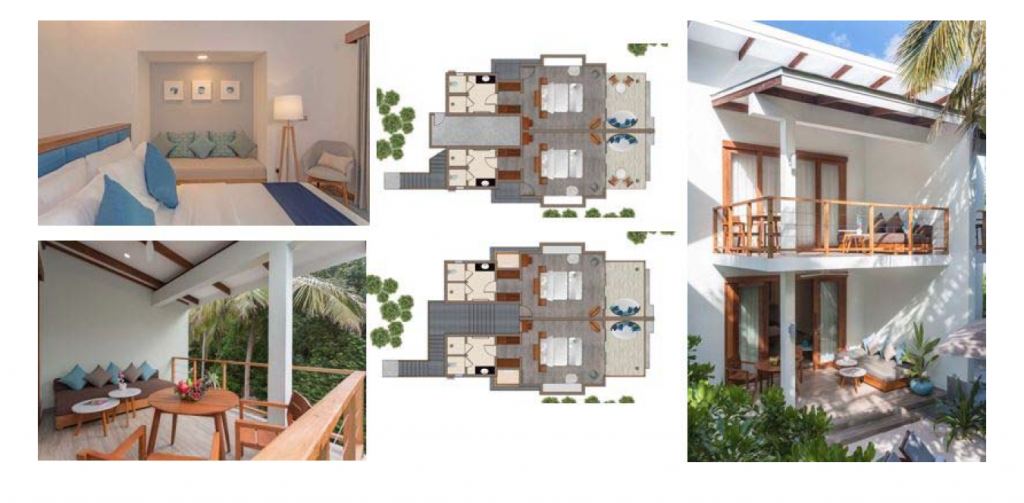 To take this opportunity forward the process is:
1. LOI from the buyer.
2. The buyer should visit the Maldives to carry out necessary works such as meetings for any negotiations, finalising the arrangement of sale and purchasing agreement (there all the terms and conditions will be included) & deed of assignment, carrying out due diligence, inspection of the island etc.
3. Register company and open bank account in the Maldives.
4. Transfer money to the buyer bank account in the Maldives and release payment to the seller as per sales & purchasing agreement.
5. Changing the ownership can be done within a month (expect few days plus or minus), if
transaction goes smoothly.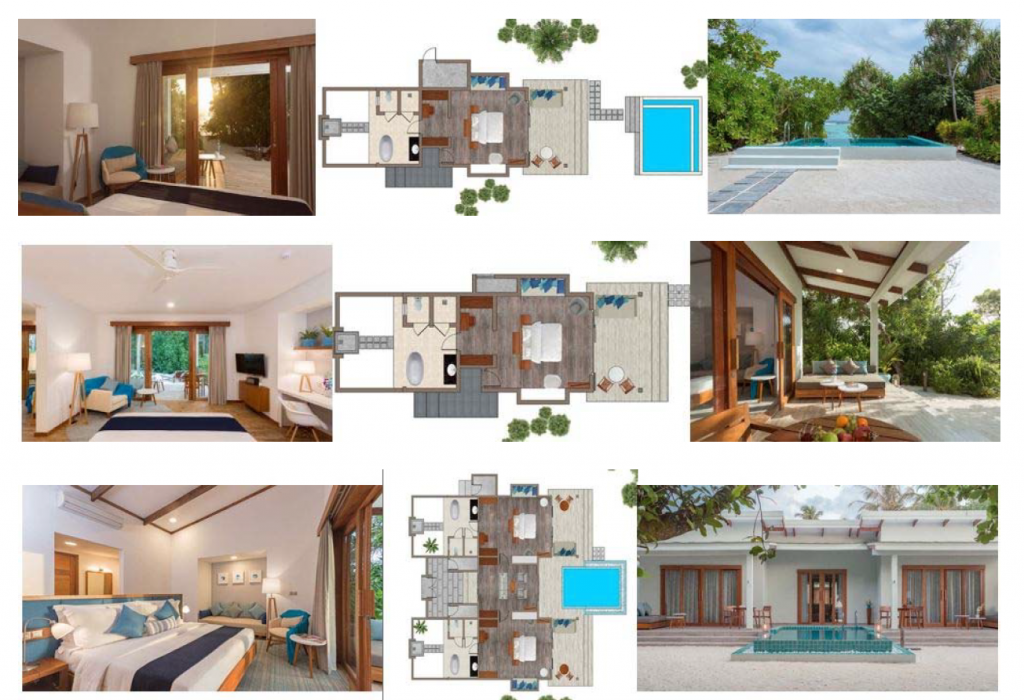 Main Photo: Aerial view of "your" island! 
Tenure: Head lease (Remaining lease period 45 years/ to be verified exact number of
years). The initial lease period was 50 years. Another 49 years can be added by paying a lump sum amount to government within the initial 50 years lease period, if the buyer wish to extends the agreement later.
Brand/Management: Both free
Financials: Business plan available upon signing of a NDA.
Current Owner: Private company
Agent: Local agent in partnership with The Hotel Property Company
Guide Price: US$65m
Guide Price per Key: €433,333 per Villa to include the whole island and airport
Date Posted: May 2020
THPT Comment: A great opportunity to secure this fabulous villa resort on it's own island, complete with private airport!
Contact us for further information
This is a new feature on the THPT site…. Hotel & Serviced Apartment owners can be naturally reticent in publicising their property is for sale…for confidentiality reasons, for staff and current client reasons, so the properties featured in this section will either be "generic" or "name specific"
Each fortnight we mail the opportunities posted that week, but check-out the tab "Hotels Available" and call us for details of "Under the Table" – deals not posted on the site at all
The Hotel Property Team (THPT) is a small group of highly experienced business professionals. Between us, we provide a range of skills and experience which is directly relevant to those involved in the hotel property market.
For more information – Visit www.thpt.co.uk or email info@thpt.co.uk.
MISREPRESENTATION ACT 1967. This information is provided as a general guide and is not intended to be constructed as a statement of fact upon which interested parties can rely. All interested parties should make their enquiries by inspection or otherwise. Neither The Hotel Property Team (trading name of Impetus Marketing 2006 Ltd) nor any person in our employment has the authority to make, give or imply any representation or warranty whatsoever relating to the premises referred to in these particulars. These details do not constitute any offer, contract or any part thereof and all negotiations relating to the premises should be conducted through THPT.