Date: July 2018
Location: New York, USA
What: Too few hotels!
One minute they are saying too many hotels, the next too few!
Who: JLL….Major transformational real-estate development is changing the New York City landscape, and submarkets that were once concerned with rapid and increasing hotel room supply might become undersupplied within the next five years, according to JLL's "2018 New York Hotel Market Report."
That might be surprising news for a market that always seems to top the national average for room-supply growth, but JLL says the reason is due to the level of existing and anticipated Class A office space in the market that will help to absorb the fast-paced room growth.
Additionally, revenue per available room to date shows that new supply is slowing as well as being absorbed. That's why JLL forecasts RevPAR growth to become more pronounced in 2019 and 2020, as fewer rooms in the market are expected over the next two years than are projected in 2018 alone.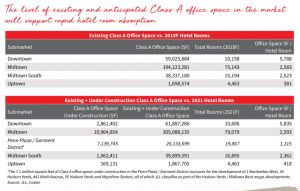 These developments are occurring in sub-markets such as Midtown West with its Hudson Yards project. It's the largest private real-estate development in the history of the United States and the largest development in New York since the Rockefeller Center, according to JLL. Additionally, in 2022, the sub-market will welcome the Manhattan West District, a 5.4-million-square-foot mixed-use development from Brookfield Properties, and the $1.6-billion Moynihan Station that will expand Penn Station.
Likewise, Midtown East and Downtown are also seeing redevelopments. One Vanderbilt, a 1.7-million-square-foot office skyscraper, is underway in Midtown East that will be located next to Grand Central Terminal. When complete, the building will be the second tallest in the city.
Finally, Lower Manhattan is also seeing a resurge in development, where the 3 World Trade Center will be completed by the end of the year.
New York's hotel deal volume, at year-to-date $2.3 billion, is about five times what it was the same time last year, according to JLL's report. Huge drivers of that volume are the $1.53-billion sale of the 452-room Edition Times Square and the disposition of W Hotel New York for $190 million.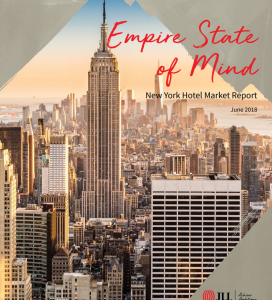 JLL notes that New York is a coveted destination for hotel investors due to its strong economy and tourism appeal. From 2012 to year-to-date June 2018, New York has recorded $17.6 billion in single-asset sales, placing it ahead of other major gateway markets such as London ($12.9 billion), Paris ($5.8 billion) and Hong Kong ($3.1 billion).
Since last year, capital has originated primarily from domestic private equity and New York-based owners and development companies, which accounted for 81 percent of acquisitions. Over the past five years, however, foreign investors have trickled in and acquired about $10 billion in hotels. JLL expects global investment to pick up throughout the year as more quality product is brought to market.
Size: 12 page PDF
Cost: Free
How to Get a Copy: Via JLL or THPT
THPT Comment: Unlike earlier reports of too many hotel beds in NY, this is comforting that scope for growth is still there…
First Seen: Hotel Management