Main Photo: The new Crown Sydney, imagined
Date: June 2020
Location: Barangaroo, Sydney, NSW, Australia
Name: One Barangaroo
No. of Keys: 349
Owner: Crown Sydney has topped out, reaching the vertical limits of the 275-metre-high hotel resort and residences at One Barangaroo.
After four years of construction, Crown Resorts is preparing to open the 349-room hotel in December 2020, alongside 14 restaurants and bars, and selected retail.
Homeowners at Crown Residences at One Barangaroo—located in the upper floors of the building—were also on schedule to move into the building in the first half of 2021.
To finalise the build more than 1,300 people would continue to work on the interior fit-out of Crown Sydney throughout the remainder of 2020.
The resort and casino tower was designed by London-based firm Wilkinson Eyre and the interiors by Meyer Davis, a New York firm that specialised in hotels and restaurants.
One Barangaroo recorded 12 sales over $20 million by February including purchases by Crown Resorts largest shareholder James Packer and veteran venture capitalist Bob Blann.
Despite the building's stature the vertical milestone was celebrated with a relatively subdued event due to Covid-19 restrictions.
It was instead marked by a short site visit by the NSW treasurer, Dominic Perrottet alongside Crown's chair Helen Coonan, CEO Ken Barton and executive vice president Todd Nisbet as well as Lendlease CEO and managing director Steve McCann.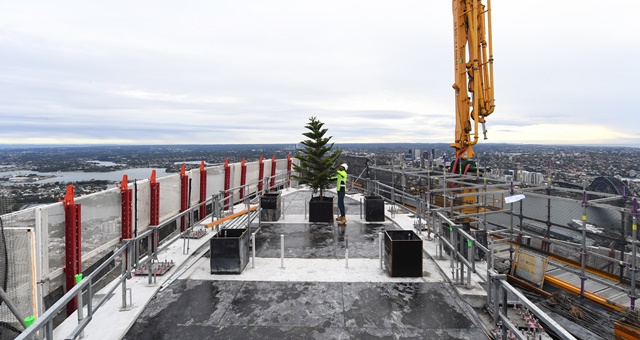 Barton said they were celebrating the start of a new future following unprecedented challenges for the community.
"The Covid-19 pandemic has presented Crown with many challenges and has required us to make some difficult decisions," Barton said.
"We are grateful for the NSW government's decision to keep the construction industry open.
"Not only has this supported over 1,300 jobs at our site at a time of great economic uncertainty, it also keeps us on track to provide over 2,000 more jobs when we open."
Almost 4 million hours of work took place during the construction phase in total including the installation of 10,000 glass panels, of which 80 per cent were unique in size.
More than 237,000 tonnes of concrete was poured, 20,000 tonnes of steel reinforcement and steel structure were put in place and 220,000 tonnes of contaminated material was remediated.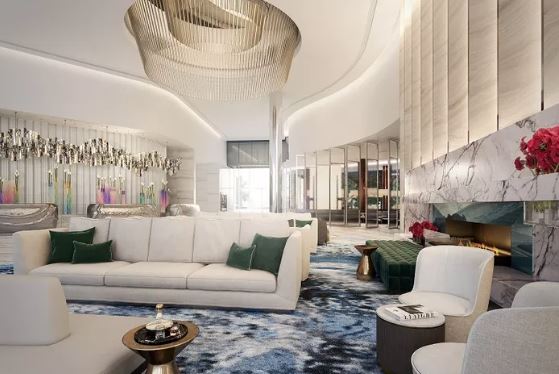 By the end of fit-out there is expected to be 50 different types of marble and stone used throughout the building, crystal light installations, 1,800 artworks and more than 50,000 shrubs and 300 trees in place.
THPT Comment: Great to see this major project is progressing well.
First Seen: Urban Developer
The Hotel Property Team (THPT) are a small group of highly experienced business professionals. Between us, we provide a range of skills and experience which is directly relevant to those involved in the hotel property market.
For more information – Visit www.thpt.co.uk or email info@thpt.co.uk.