Date: January 2018 Updated March 2018
Who: China and Marriott
What: This month (February 2018) China has shut down Marriott's website and mobile app. The shutdown, which was for one week, came at the request of Chinese government officials in Shanghai. It is said to be punishment for the company listing Chinese-claimed regions Tibet, Hong Kong, Macau and Taiwan as countries. This listing appeared in a Mandarin-language survey sent to customers who are Marriott loyalty members.
Marriott CEO Arne Sorenson addressed the matter in a statement released January 11, writing, "In China, at the request of the Government, we have taken down our Chinese websites and apps to conduct a full review and audit. Upon completion of a full investigation into how both incidents happened, we will be taking the necessary disciplinary action with respect to the individuals involved, which could include termination, changing our approval and review procedures for online content, reviewing our customer feedback channels, and enhancing training to ensure these situations don't happen again. We are also working closely and co-operating with the relevant Government authorities in China."
Marriott Chinese Website Shutdown: This shutdown stands to have a negative business impact on Marriott. Shutting down Marriott's Chinese website and app directly impacts the company's ability to gather bookings in China. This is significant, because China is currently the world's largest travel market. Global hotel brands are well aware of how important China has become.
This is even more significant, because Chinese consumers increasingly rely heavily on mobile applications to conduct business, and this includes for booking travel.
Bad Timing: This was bad timing for Marriott, because the shutdown took place at a time when Chinese travellers are making their plans to vacation during the start of the upcoming Lunar New Year. The Chinese (Lunar) New Year takes place February 16. The event brings in one of the world's largest human migrations, as hundreds of millions of travelers from China return home. They do so to celebrate the holiday with family.
Marriott in China: Marriott has made growing its business in China a priority for some time. In August, the company formed a partnership with Alibaba Group, which is considered by many to be the "Amazon of China." Marriott did this to promote its hotels to Chinese travellers.
Marriott International, issued an apology to the Chinese government before it shutdown its website, writing, "Marriott International respects the sovereignty and territorial integrity of China. We don't support separatist groups that subvert the sovereignty and territorial integrity of China. We sincerely apologise for any actions that may have suggested otherwise."
The company later Tweeted the apology.
In a second incident, a Marriott associate 'liked' a tweet that supported the labelling of Tibet as its own country.
The employee, Roy Jones, 49, who was let go by the hotel giant, has revealed to the Wall Street Journal handled social media accounts from his desk at a customer engagement centre in Omaha, Nebraska.
Jones told the WSJ he wasn't aware of any instructions on dealing with China. He also said he didn't fully understand what the issue was about.
"This job was all I had," Jones also said. "I'm at the age now where I don't have many opportunities."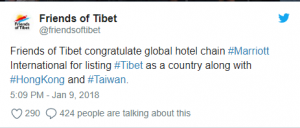 According to WSJ, Jones says he had no idea that he would lose his $14 per hour job after "liking a tweet".
THPT Comment: Oops
First Seen: Top Hotel News