Date: February 2018
Location: UK
What: Budget hotel developer easyHotel is seeking to raise £50m from a share placing to fund the growth of its UK chain.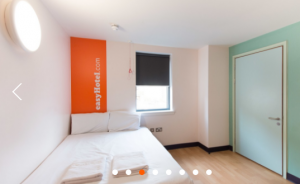 The proceeds of the conditional placing of 45,454,546 new ordinary shares at 110.0p per placing share will primarily be used to fund the acceleration of the group's owned hotel roll-out strategy.
EasyHotel has a targeted owned hotel pipeline of 1,122 rooms across 26 hotels in the UK and continental Europe, with a further 2,739 owned and franchised rooms already committed to across seven of those hotels in the next two years. Hanover Green advise easyHotel on all their acquisition.
Analysts react: Paul Hickman, analyst at Edison Investment Research, said: "EasyHotel's placing marks the next stage in its aspirational landgrab.
This is about increasing the owned room estate, where management sees the potential for 12,000 rooms in the UK and Europe, as well as 15,000 franchised rooms.
Specifically, this raise should enable management to proceed with a £60m acquisition portfolio of 1122 rooms spread over eight hotels opening in 2019 and into 2020.
"The company's return to the market to raise £50m at 110p follows its successful raise of £38m at 100p in September 2016.
Then, it only had one owned hotel with 390 rooms and compared with 1405 franchised rooms in 17 hotels: today it has 702 rooms in seven hotels as well as 1641 rooms in 19 franchised hotels.
The key to future scale will be the build-out of the owned estate where the company retains the whole of the trading profit, as opposed to much smaller franchise fees. EasyHotel continues to strongly outperform its competitive set with revpar 10.9% ahead for the financial year to date, compared with 14.5% outperformance in the year to September 2017."
Chief executive Guy Parsons said: "The strong and ongoing market outperformance of our growing owned hotel portfolio has continued into the current financial year.
The proceeds from today's placing will enable us to continue the acceleration of our owned hotel development pipeline, allowing us to take advantage of the significant opportunities within our markets, delivering enhanced returns for our shareholders and underpinning the long-term growth of the easyHotel brand."
Investec Bank is acting as nominated adviser and sole broker to the company with the placing set to complete by 12 March 2018.
THPT Comment: Since Guy Parsons took the helm as CEO in 2015, the company really has flourished, having had a slow start at the beginning…he had a good pedigree having been both Sales & Marketing Director for Whitbread (encompassing Premier Inn) and CEO at Travelodge, he certainly knows the budget sector well.
First Seen: Property Week