Date: February 2018
Name: EMEA Hotels Monitor, Issue 21
Published by: Whitebridge Hospitality, RLB – Rider Levett Bucknall & STR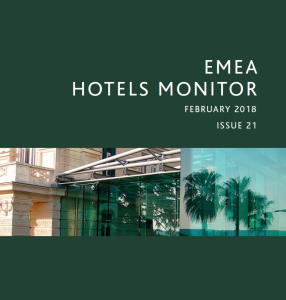 Size: 12 page PDF
Cost: Free
Get a Copy: From Whitebridge or via THPT
What does it say: The second half of 2017 was positively dull by comparison to the previous 18 months and the hotel markets of Europe have benefited enormously.
In fact, as Robin Rossmann of STR highlighted during their 13th annual New Year Hotel Investment Summit, Europe as a whole recorded the highest growth in RevPAR of any region in the world (+6.4% on a Constant Currency basis).
Roll on the ensuing development pipeline, which has lagged behind demand in Europe for many years now.
It shows performance trends by city (22 in EMEA) of ADR, Occupancy, RevPAR in 2017 over 2016. Also hotel construction costs by city (31 in EMEA), separated out by Budget, Mid-market Low, Mid-market High & Luxury.
Transaction Tracker: Portfolio and Single Asset transactions in 2017 by €uros (total, €uros (per key) and No. of Keys, across mainly Europe.
The major markets that recorded the highest growth in 2017 were: Madrid, Budapest, Cape Town and Warsaw, all increasing by double digit growth in RevPAR.
THPT Comment: Great data, provided by three respected sources and valuable to far-flung investors looking to invest in hotels in Europe.