Date: June 2018
Location: Riviera Nayarit, Punta Mita, Mexico
Name: Four Seasons Resort Punta Mita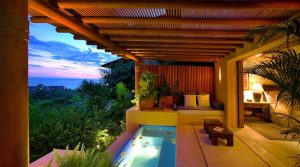 Owner: DINE, the Mexican real estate developer and owner of Punta Mita has sold out of all 54 of its Four Seasons Private Villas and ten Four Seasons Private Residences, the company said this week.
Dine SAB de CV is a Mexico-based company principally engaged in real estate.
The Company focuses on the construction and promotion of residential and touristic properties, as well as development of large-scale corporate and commercial spaces. Its project portfolio includes the Punta Mita and Punta Ixtapa resorts, the Bosques de Santa Fe, Bosques de las Lomas and Torres del Parque residential real estate, the Arcos Bosques Corporativo offices complex, as well as the Santa Fe shopping centre, among others.
This milestone marks more than $171 million in sales.
"The success at Four Seasons Punta Mita Private Villas & Residences is bittersweet, as it marks the completion of DINE's flagship residential project in Punta Mita," said Andrés Rossetto, Managing Director of Punta Mita Development.
"It does reaffirm, however, our belief and commitment to offering spectacular luxury resort real estate products with the finest amenities, in intimate settings of unmatched beauty."
Four Seasons ownership allows exclusive access to the services and amenities of Four Seasons Resort Punta Mita, including pools and beach areas, Apuane Spa, Four Seasons signature Kids For All Seasons program, and four restaurants.
"Four Seasons has the finest collection of luxury residential real estate in the world – and in many ways, Four Seasons Resort Punta Mita has been the pioneer, setting the standard for residential product design, quality, amenities and service," said Paul White, President, Residential, Four Seasons Hotels and Resorts.
"We would like to congratulate our longtime partner DINE and the on-site residential services and resort management team for this exciting achievement and milestone."
Four Seasons Resort Punta Mita, along with The St. Regis Punta Mita Resort, is a partner in the Punta Mita master-planned community, a luxury resort destination which now includes 15 exclusive and unique luxury residential developments including home sites, villas condominiums and townhouses; three beach clubs with full service and food; two Jack Nicklaus Signature Golf Courses; recreational trails, surfing, sailing, fishing and aquatic adventures and a brand new full-service hospital.
THPT Comment: Interesting to see that the resort includes a full-service hospital in addition to golf, pools, bars and beach clubs!
First Seen: Caribbean Journal