Date: February 2018
Location: Close to Shimbashi station, Ginza, Tokyo, Japan
Name: Capri by Fraser to open 2020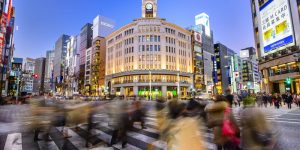 No. of Keys: 200
Owner: Fraser Hospitality, who also are due to open Fraser Suites Akasaka in 2020. Capri is designed by Hirsch Bedner Associates of London, who are no strangers to hotels or China, with properties like Hilton Wenchang, Four Seasons Kyoto, Hotel Indigo Los Angeles as clients.
Their first property in Japan was Fraser Residence Nankai in Osaka in 2010.
Back in June 2017, when they opened Capri by Fraser in Berlin, Germany they said: This is the seventh operating Capri-branded property globally and the second in Germany, with plans to expand the brand to a total of 16 cities over the next four years.
The Capri by Fraser brand caters to the needs of the e-generation, including the Spin & Play laundry concept with games consoles, kickboxing and other activities for the millennial traveller, along with cutting-edge technology integrated into the travel experience at every possible touchpoint.
Price: SG$250m
Price per Key: SG$1,250,000
THPT Comment: No stopping these guys with 23,600 keys in 80 cities across the world under seven brands.
First Seen: ASAP (Assn of Serviced Apartment Providers)