Date: February 2018
Location: Near Trinity College, Dublin, Ireland
Name: Carmans Hall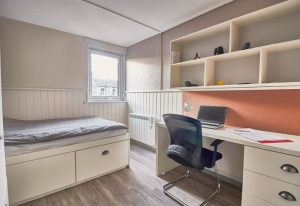 No. of Beds: 207
Buyer/Developer: Crosslane Student Developments has secured planning consent to deliver a 207-bed purpose-built student accommodation development scheme in Dublin.
The project will be Crosslane's first student development in the city and in the Republic of Ireland. They currently have five locations in the UK, 2 in Germany and 3 in development in The Netherlands (15 properties, 3,000 beds).
Completion of the scheme is due in time for the 2019/2020 academic year and Prime Student Living, the student accommodation lettings and operational management arm of Crosslane, will be responsible for letting it out prior to practical completion.
Located at the junction of Carman's Hall and Garden Lane, the development is a short walk away from Trinity College Dublin and the Royal College of Surgeons campus.
The scheme itself will comprise three residential buildings of between three and six storeys, containing 207 high-specification en-suite beds arranged in cluster flats of between five to eight bedrooms. The property will also feature significant dedicated communal areas, including a common room, gym and study room, a management suite, bicycle storage, a public coffee shop at ground level and a private outdoor landscaped courtyard.
Crosslane has appointed local architects John Fleming to design the development.
THPT Comment: Dublin/Ireland is seeing the rapid growth for purpose built student housing as is the UK (and no doubt the rest of Europe). Some question whether there is sufficient demand that can afford the supply (at €300+ a week), even though it is much better quality than what it has replaced.
A report in 2015 published by the Higher Education Authority said: Dublin city is in the middle of a construction boom of student accommodation developments, with thousands of units being built or in the planning stages, and that there was still a serious deficit in accommodation for students in Ireland.
The report (this link identifies developments due to be built by 2018 and planning consents for some additional 4,000 beds) found that the number of students in full-time third level education was set to continue to rise throughout the decade. Numbers were expected to grow from 168,000 in 2014 to 193,000 by 2024 (a rise of 25,000).
First Seen: Property Week and The Journal