Date: July 2018
Location: Lord Edward Street, Dublin, Ireland
Name: Hard Rock Hotel Dublin – opening 2020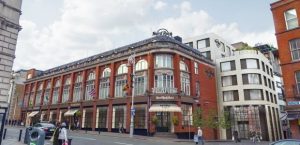 No. of Keys: 120 (planning granted for 178 rooms)
Seller: The site comprises an existing listed property, built at the turn of the 20th century originally known as the Exchange Buildings and currently the site of the Parliament Hotel (then a 63 room, three star hotel owned by Louis Fitzgerald, whor paid €20m in 2008), and the adjacent Fashion House Building.
Buyer: Tifco Ltd, Ireland 2nd largest hotel group with 24 hotels comprising 2,423 rooms. Hotels include the Crowne Plaza Dublin Airport, Clontarf Castle (their first hotel in 1997) and The Metropole in Cork
The Fashion House will be entirely rebuilt and transformed into the new hotel entrance and reception. Bringing a contemporary feel to the property, a new glass link bridge will connect guests to the refurbished Parliament building.
While retaining and restoring the original red brick façade of 1912, the interiors of the Parliament building will be completely reimagined, creating a unique music-inspired city escape with priceless memorabilia adorning the interior of the property.
The hotel will feature bedrooms and suites furnished to an exceptionally high standard using warm fumed woods, fresh stone surfaces, bespoke Ulster carpets and sumptuous patterned and vibrant fabrics.
Hard Rock Hotel Dublin will also have an exciting all-day dining restaurant showcasing the freshest Irish ingredients. There will also be a casual bar serving food accompanied by well-crafted cocktails and 24-hour in-room dining.
Commenting on the project, Todd Hricko, SVP & Head of Global Hotel Development for Hard Rock International, said "Ireland has always been a place close to our hearts, and it only seems right to open a Hard Rock Hotel in Dublin, given the city's musical roots. This is an exciting opportunity to extend our presence in Europe and elevate the one-of-a-kind offering at Hard Rock Hotels to the next level."
Renowned for its famous pubs and restaurants, Hard Rock Hotel Dublin will be positioned within the commercial centre of the city, close to Temple Bar.
Recognised as a cultural hot spot, Temple Bar is a stone's throw away from the city's most visited landmarks and attractions such as Trinity College, Grafton Street, St. Stephen's Green and the world-famous Guinness Storehouse.
Speaking about the project, Enda O'Meara, CEO of Tifco Ltd. said "Dublin's vibrant cultural scene makes it one of the hottest European cities to visit, attracting over 5.5 million overseas visitors annually.
Commenting on the hotel itself Enda said "The hotel's custom design based around the existing handsome early 20th century building will be unique, modern and sophisticated, offering upscale 4-star luxury with a standalone F&B proposition that we plan to put on the map. Hard Rock Hotel Dublin will be the place to see and be seen with live music nightly, excellent food and cocktails, and authentic Irish service."
Cost: €40m plus €10m to buy Portobello House
Cost per Key: €416,666 + (at 120 rooms)
THPT Comment: With a presence in more than 70 countries across the globe, Hard Rock International is expanding its hotel portfolio to Ireland. Boy haven't they done well since opening their stand alone restaurant just off London's Park Lane in the early 1970s… interesting that their senior management was run by Scotsman Hamish Dodds until 2016, when he stepped down. Dodds joined from the UK's Rank Organisation that once had ownership of Hard Rock!
Goldman Sachs backed Tifco was put up for sale in March 2018, but we haven't heard if that went anywhere?
First Seen: Hotel Space Online