Date: August 2018
Location: McCormick Place, Chicago, USA
Name: Hilton Garden Inn Chicago McCormick Place, the Hampton Inn by Hilton Chicago McCormick Place and the Home2 Suites by Hilton Chicago McCormick Place.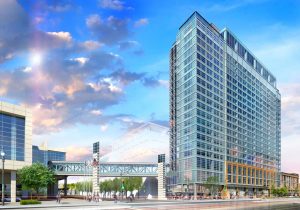 No. of Keys: 184 Hilton Garden Inn rooms, 187 Hampton Inn rooms and 95 suites within the Home2 Suites
Seller:
Buyer: Hilton, along with First Hospitality Group, opened its newest hotel, the company's first tri-branded property, which comprises the three brands: Hilton Garden Inn, Hampton Inn by Hilton and the Home2 Suites by Hilton.
Connected to McCormick Place, North America's largest convention centre, and adjacent to Wintrust Arena, the property is located in downtown Chicago's South Loop and Motor Row District.
The hotel also represents Hilton's first tri-branded property. The company currently has a footprint of more than 85 open, multi-brand properties, with an even larger pipeline of multi-brand projects in development around the globe.
"Hilton is passionate about delivering exceptional travel experiences and continually looking for opportunities to add value for our guests," Bill Duncan, global head, all suites and focused service category, Hilton, said in a statement.
"This milestone tri-brand property embodies that spirit. Bringing together these three category-leading brands and their signature, yet distinct, offerings under one roof provides travellers with a wealth of shared amenities, and the opportunity to enjoy the warmth and hospitality of Hilton through an innovative lodging option that fits a variety of travel needs and desired price points."
Managed by FHG, the 23-story tri-branded hotel offers the variety of rooms and suites, as well as a skybridge providing guests with access to McCormick Place.
The hotel provides larger and enhanced communal areas and amenities than what would be standard at a stand-alone property.
These include an expanded exercise room, indoor pool, 24-hour business center and 10 flexible event/meeting spaces totalling nearly 7,000 square feet, as well as added food & beverage offerings.
In addition to complimentary breakfast offerings for guests of Hampton Inn and Home2 Suites, as well as the fresh cooked-to-order breakfasts by Hilton Garden Inn, the property has the following dining options that are open to all Windy City visitors and locals alike, including:
VU Skyward Bev & Eat: A rooftop dining and lounge experience operated by Concentrics Restaurants, scheduled to open this fall, will serve breakfast, lunch and dinner with locally inspired small plates and craft cocktails amid views of Lake Michigan and Downtown Chicago.
Fatpour Tapworks: A street-level pub and grill operated by Big Onion Tavern Group, also scheduled to open in the fall, will offer a selection of menu items including more than 220 beers, all available in 22-ounce pours.
Starbucks coffee shop: Easily accessible by guests and locals from Cermak Road.
"We are thrilled to bring three powerhouse hotel brands, as well as inventive new dining concepts to the continuously-evolving landscape of McCormick Place and the Motor Row District," Stephen Schwartz, founder and chairman of First Hospitality Group, said in a statement.
"This tri-brand hotel will serve as a convenient 'one-stop-shop' for convention-goers looking to rest and recharge or enjoy the local flavors of Chicago while remaining just steps from their convention events. It is also a great option for guests travelling with larger groups or extended families, as everyone can stay under one roof despite having varied preferences on room-type and price-point."
Based in Chicago, First Hospitality Group (FHG) is a major hospitality management and development company.
Founded by Stephen L. Schwartz in 1985, FHG has forged strong partnerships with Marriott International, Hilton Worldwide, Hyatt Global, and Intercontinental Hotels Group. 41 hotels, 6708 rooms, 21 brands in 9 states in America.
Construction of the tri-branded hotel was led by McHugh/UJAMAA, a joint venture between James McHugh Construction Co., minority-owned contractor UJAMAA Construction and Merritt Development Group. Antunovich Associates served as the building architect, Todd Halamka + Partners as the hotel architect and Looney Associates as the interior designer.
THPT Comment: Hilton's first, and maybe a first for all hotel chains, apart from maybe Accor? Great idea by combining the brands and price-levels a guest can choose, whilst giving them combined public areas and restaurants and bars. Genius!
First Seen: Hotel Management