Date: August 2018
Location: Bay Area market, San Francisco Airport, California, USA
Name: Home2 Suites by Hilton San Francisco Airport North – opening early 2019.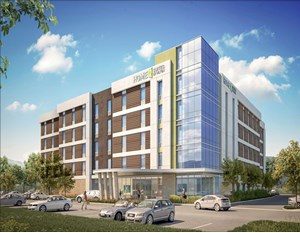 No. of Keys:
Seller:
Buyer: Southern Hospitality Services, owners being Roy Patel, Vijay Patel, and Bj Patel, with construction company Akshar Development.
Southern have 20+ hotels across the USA, under brands such as Hyatt, Choice Sleep Inn, IHG HI Express, Best Western and Marriott Courtyard and is the hotel arm of the WeldenField Group, started in 1995.
Home2 Suites by Hilton has unveiled plans to open its first modular construction hotel in San Francisco, Along with the brand has placed pre-fabricated elements of the hotel in position.
A crane lifted and positioned the hotel's exterior panel pieces. The finished product is scheduled to debut in early 2019.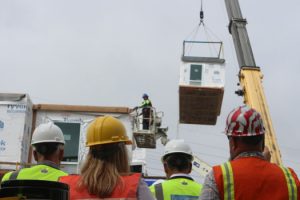 The hotel will offer all-suite rooms with fully-equipped kitchens and modular furniture.
Features will include free Wi-Fi, the Spin2Cycle laundry and fitness area, the Inspired Table complimentary breakfast, an outdoor fire pit, a game room, communal spaces and the Home2 MKT for grab-and-go items, a jacuzzi and a grill area.
The property will incorporate sustainable features including solar panels that will produce close to 50 percent of the hotel's energy, as well as a bio-retention pond that will filter water run-off.
"From tri-branded properties to modular building, Hilton continues to be a leading innovator in the hospitality industry, utilising cutting-edge methods to create unrivaled investment opportunities for owners and superior accommodations for guests," Adrian Kurre, global head, Home2 Suites by Hilton, told Commercial Property Executive.
"As one of the fastest growing brands in the Hilton portfolio and the hospitality industry as a whole, Home2 Suites by Hilton is an especially natural fit for the modular building process, with the brisk construction speed reflecting the brand's overall streamlined growth strategy."
By using the modular process, construction time for the Home2 Suites by Hilton San Francisco Airport North property is cut nearly in half and will be shorter than the average for the Bay Area market.
In April, the brand opened its first hotel in Nevada, the 120-key Home2 Suites by Hilton Las Vegas Strip South. The property is owned and managed by National Hospitality Management LLC.
THPT Comment: We have seen pre-fab hotel building before in the USA and UK…doesn't always go well, so good luck on this one!
First Seen: Commercial Property Executive