Location: Rivington Street, Between Ludlow and Essex Streets, Lower East Side, New York, NY, USA

Name: Hotel on Rivington – Four Star 
No. of Keys: 110

The Property: The 20 storey building (plus basement) comprises: 1st to 6th Floors 50′ x 100′ – 5,000 sqf each floor and 7th to 20th Floors 50′ x 50′ – 2,500 sqf each…in total 65,000 sqf.
The hotel has a beautiful steel and glass structure with great views of the Lower East Side. All the guestrooms have an apartment-like atmosphere with sizes ranging from 360 to 1,200 square feet with amenities like modern oversized bathrooms, desktop work station and ipod/ihome stereo system.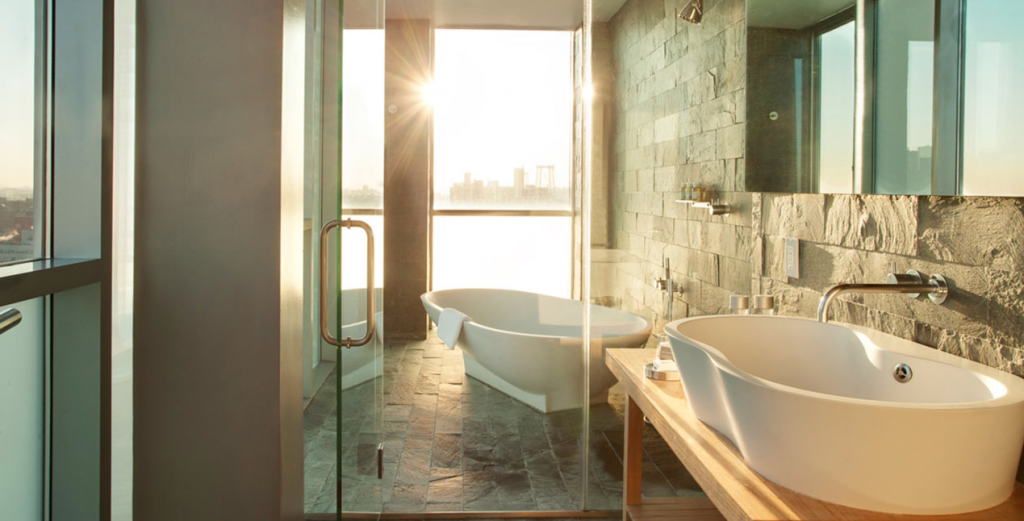 The hotel is nonunion, no lease on the food and beverage space and being sold with no flag name. Tourist and locals love to stay at the hotel for the service and because it has a prime Lower East Side location close to fine art galleries, great restaurants with different cuisines. The train station is one block south on Delancey and Essex Street which has the J, Z, M and F trains also the M15 Bus.
The Hotel On Rivington netted $3.652m (2019) and can net more if the new owner adds more value to the hotel. The food and beverage can be made bigger and better, the rooms can be updated for today's in-style models. One can increase income buy adding retail stores on the ground floor, increase the number of rooms by making some rooms smaller. The terrace suite is 1,000 square feet and by creating two rooms one increases the number of guests that can use it. The same for the owner's suite, which is 1,200 square feet that can be converted into two suites.
The hotel was built in 2005 and has become the epi-center of the Lower East Side. LS
Main Photo: The Hotel on Rivington
Tenure: Freehold
Brand/Management: Management and Flag free
Financials: Available upon signing NDA
Current Owner: Private family.
Agent: Local agent in partnership with THPT
Guide Price: US$72m
Guide Price per Key: US$654,545
Date Posted: March 2020
THPT Comment: This is a great opportunity to acquire this trendy, cool hotel on the Lower East Side, NY.
Contact us for further information
This is a new feature on the THPT site…. Hotel & Serviced Apartment owners can be naturally reticent in publicising their property is for sale…for confidentiality reasons, for staff and current client reasons, so the properties featured in this section will either be "generic" or "name specific"
Each fortnight we mail the opportunities posted that week, but check-out the tab "Hotels Available" and call us for details of "Under the Table" – deals not posted on the site at all
The Hotel Property Team (THPT) is a small group of highly experienced business professionals. Between us, we provide a range of skills and experience which is directly relevant to those involved in the hotel property market.
For more information – Visit www.thpt.co.uk or email info@thpt.co.uk.
MISREPRESENTATION ACT 1967. This information is provided as a general guide and is not intended to be constructed as a statement of fact upon which interested parties can rely. All interested parties should make their enquiries by inspection or otherwise. Neither The Hotel Property Team (trading name of Impetus Marketing 2006 Ltd) nor any person in our employment has the authority to make, give or imply any representation or warranty whatsoever relating to the premises referred to in these particulars. These details do not constitute any offer, contract or any part thereof and all negotiations relating to the premises should be conducted through THPT.