Date: December 2018
Location: Avenida Diagonal, Barcelona, Spain
Name: Hotel SOFIA Barcelona
No. of Keys: 465, including 18 suites
Owner: The Selenta Group, headed up by Jordi Mestre, executive chairman and Ramon Borrell, CEO, and owners of The Don Carlos Marbella, The Torre Catalunya Gran, the Mare Nostrum and The Sir Anthony, both in Tenerife – 2,900 rooms in all.
The Hotel SOFIA Barcelona is a skyscraper hotel. It has 22 floors and rises 79 metres.
The hotel was completed in 1975 as the Hotel Princesa Sofia. It was renamed InterContinental Princesa Sofia in 1996, then the Gran Hotel Princesa Sofia in 2004.
It was completely renovated in 2017 at a cost of €60m and renamed Hotel SOFIA Barcelona
The property marks the first Hyatt hotel in Barcelona and the third property in Europe to join The Unbound Collection by Hyatt.
Hyatt Hotels Corporation announced today Hotel SOFIA Barcelona is joining The Unbound Collection by Hyatt, becoming the first Hyatt hotel in Barcelona and third property in Spain, under a 15 year brand agreement.
The hotel is located on the Avenida Diagonal, one of Barcelona's main avenues in the heart of the city.
Originally named after Princess Sofia, wife to the former King of Spain Juan Carlos I, Hotel SOFIA Barcelona has been known to host many dignitaries and heads of state. With the hotel's rich history paired with its contemporary and luxurious design, Hotel SOFIA Barcelona perfectly meets the brand's promise of creating story-worthy and unforgettable experiences.
"We are thrilled to welcome guests to the first Hyatt hotel in Barcelona," said Felipe Espinoza, general manager of the hotel. "Hotel SOFIA Barcelona has long been a symbol of glamour and luxury in the area. Its rich history and stunning architecture will deliver an unforgettable stay for the modern traveller."
The hotel is home to luxurious suites, five distinct dining options and a live dinner experience where actors, dancers and singers perform nightly.
Guests can enjoy several leisure facilities including an elegant Mediterranean-inspired spa, the SOFIA Oasis Wellness & Spa, and a tropical garden pool.
There are 18 luxurious suites guests can choose from including So Suite, which offers a large, open space featuring a living room, in addition to a spectacular bathroom with a bathtub and modern touches.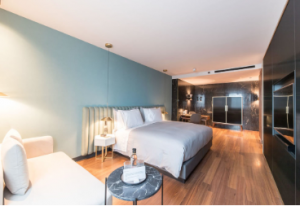 All suites feature impressive views of Barcelona and access to the privileged "As You Wish" services, which include amenities such as a 24-hour butler, welcome gifts, access to the Wish Lounge serving daily cocktails and delicacies, and other personalised offerings.
The hotel boasts five distinct gastronomic spaces with unique personalities, all of which have been carefully designed by interior designer Jaime Beriestain.
IMPAR delivers Mediterranean fusion cuisine, while Sofia Be So is a more intimate luxury restaurant serving traditional local dishes with premium ingredients. For coffee or cocktails, the Sofia Bar offers the perfect spot to rendezvous.
And, for a sweet treat, Philosofia is the hotel's own bakery, where everything is made fresh daily. The hotel also has its own live dining experience, Zuu, where guests can enjoy evening entertainment.
Hotel SOFIA Barcelona features one of the largest meeting spaces in the city, including a convention hall that seats more than 1,000 attendees, as well as 22 multi-purpose meeting rooms distributed over two floors. Featuring natural light and equipped with cutting edge technology, the venue caters to every request, be that business or pleasure.
Hotel SOFIA Barcelona is the third property to open in Europe as part of The Unbound Collection by Hyatt. It joins Hôtel Martinez in Cannes, France and Nish Palas in Istanbul, Turkey.
"Hotel Sofia Barcelona is an exciting project for Hyatt as it provides us with entry into a market that is in high demand and strengthens the overall offering of The Unbound Collection by Hyatt brand," said Peter Fulton, Group President – EAME on behalf of the Hyatt Hotels Corporation.
THPT Comment: Great new member of the Collection for Hyatt, with a rich history.
First Seen: Hotel News Resource
The Hotel Property Team (THPT) are a small group of highly experienced business professionals. Between us, we provide a range of skills and experience which is directly relevant to those involved in the hotel property market.
For more information – Visit www.thpt.co.uk or email info@thpt.co.uk.