Date: August 2018
Location: Apgujeong neighbourhood, Han River, Seoul, South Korea.
Name:  Andaz Gangnam  – opening 2019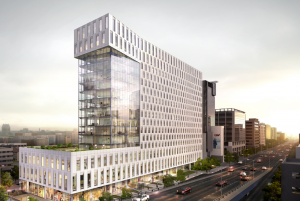 No. of Keys: 241
Seller: The site was a KT office building
Buyer: The property will be developed by KT Estate and Hotel I-Park. The first Andaz in the country, it joins other Andaz properties in the region, in Shanghai, Singapore and Tokyo.
KT Estate Inc. is an affiliate of KT Corporation (formerly Korea Telecom) and Korea's largest telephone and broadband internet telecommunications provider.
KT Estate owns and manages one of the largest portfolios of prime real estate around Korea and is in the process of developing sites for hotel, residential, and commercial use.
HOTEL HDC Co., Ltd is a subsidiary of Hyundai Development Company Engineering & Construction, one of South Korea's leading real estate developers and construction companies, under the umbrella of the multinational Hyundai brand. Hyundai Development Company has worked with Hyatt in the past for Park Hyatt Seoul and Park Hyatt Busan.
Apgujeong, is an area of Gangnam that is considered to be one of the most affluent neighbourhoods in the country. Comprised of upscale retail shops, prestigious schools, and residential areas.
Main restaurant and retail areas like Cheongdam-dong and Rodeo Street – lined with designer brands and high-end shopping – are all within close proximity.
Nearby, some of the country's biggest corporations and entertainment companies have also settled in the area.
The high-rise hotel will offer easy access for guests, located just blocks away from two subway stations and minutes away from the Han River, one of Seoul's most prominent landmarks.
In recent years, tourism in South Korea has surged, with 16.7 million passengers arriving at Incheon Airport in 2010 and 24.6 million in 2016.
Seoul is the capital and largest metropolis of the country with a population of more than 10 million.
"At Hyatt, we are committed to offering experiences in destinations that are meaningful to our guests and each Andaz hotel's atmosphere is influenced by the city and neighbourhood," said David Udell, group president, Asia-Pacific, Hyatt Hotels Corporation.
Andaz Gangnam, Seoul will include a lobby lounge (the Atelier), an all-day dining restaurant (the Tavern), approximately 6,458 square feet of meeting space, a pool, and a fitness centre with three spa treatment rooms.
The term "Hyatt" is used in this release for convenience to refer to Hyatt Hotels Corporation and/or one or more of its affiliates.
Seventeen Andaz hotels are currently open: Andaz 5th Avenue and Andaz Wall Street in New York, Andaz San Diego, Andaz West Hollywood, Andaz Napa, Andaz Scottsdale Resort and Spa, Andaz Savannah, Andaz Maui at Wailea, Andaz Ottawa Byward Market, Andaz Mayakoba Resort Riviera Maya, Andaz Peninsula Papagayo in Costa Rica, Andaz London Liverpool Street, Andaz Amsterdam Prinsengracht, Andaz Singapore, Andaz Delhi, Andaz Xintiandi in Shanghai, and Andaz Tokyo Toranomon Hills.
THPT Comment: Andaz has had a slow start, but this will be a welcome addition to the Hyatt brand. Interesting partnership between the old Korea Telecom company and Hyundai.
First Seen: Hyatt website