Date: March 2018
Location: Sydney Central Precinct, Australia
Name: Hotel Indigo Sydney Central -opening 2021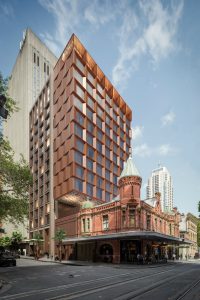 No. of Keys: 168, to include five suites, rooftop terraces for meetings and events with views over the city, and a gymnasium.
Seller:
Buyer: Chinese-backed Watson Elite. One feature of the Hotel Indigo brand is no two Hotel Indigo properties are the same, with each drawing on the story of its local area to inspire every aspect of the hotel to help guests feel part of the destination.
When it opens in 2021, Hotel Indigo Sydney Central's design, created by Bates Smart, will draw its unique identity from the neighbourhood's rich heritage and the nuances of the site.
The cantilevered northern wing will provide a sophisticated and calming backdrop to its neighbour, the heritage-listed Corporation Building, while a grand artwork will become a distinctive external feature, celebrating the hotel's location within the Haymarket entertainment precinct.
Inside, the design will ensure the hotel fits naturally into the neighbourhood, telling stories of the local culture by weaving together rich materials, colour palette and custom pieces from local artists, photographers and furniture makers.
Abhijay Sandilya, IHG's Senior Director, Development – Australasia & South Pacific, said: "Hotel Indigo Sydney Central will be IHG's first lifestyle-branded boutique hotel in Sydney.
It's also the third Hotel Indigo signing for Australia,
It will perfectly complement our existing mid-scale to luxury IHG assets across Sydney.
"Cruz Chen, Chief Executive Officer at Watson Elite, said: "Sydney is an exciting city to be in, it continues to lead the Australian market in terms of hotel performance, and we expect to see the growth trend continue.
With a prime asset in the middle of the central precinct, opposite Capitol Square, we knew we needed a hotel brand that would build on the best of the area and deliver an outstanding guest experience.
The Hotel Indigo brand is the perfect fit.""I have seen first-hand how Hotel Indigo does this in world-class cities like Shanghai, Singapore and Hong Kong and am excited to do the same here.
Watson Elite entered the student housing sector in May 2016, with a planning application for a 15 storey, mixed-use building at Parker Street, Haymarket with a 300 room student facility, yet to open.
Launched in 2004, Hotel Indigo is the world's first globally branded boutique hotel brand.
It launched in Asia Pacific in January 2015 with the opening of Hotel Indigo Bangkok Wireless Road, Thailand, followed by the opening of Hotel Indigo Singapore Katong, Singapore in July 2016 and then Hotel Indigo Bali Seminyak Beach in late 2017.
There are currently 82 Hotel Indigo properties (10,645 rooms) in the global pipeline.
IHG currently has 47 hotels operating under four brands in Australasia, including: InterContinental, Crowne Plaza, Holiday Inn and Holiday Inn Express, with another 17 in the pipeline, including Hotel Indigo Brisbane Fortitude Valley and Hotel Indigo Melbourne Docklands.
THPT Comment: We like the Hotel Indigo concept of theming the hotel to the area…Any Aboriginal element to the theming here?
First Seen: IHG Press Release