Date: February 2018
Location: Zurich Airport, Switzerland
Name: IntercityHotel Zurich – to open 2020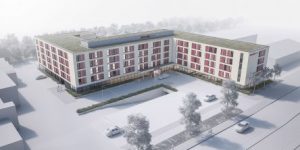 No. of Keys: 250
Buyer: A lease agreement has been concluded with Patrizier Beteiligungs AG, which will act as investor and developer with more joint projects in the pipeline.
From their website they describe themselves as "an active and strategic entrepreneurial-investor" and their key interest is on the following fields:
Large datacenter projects ("Datahalls") in the key markets Switzerland/Europe/Asia [dimension: 100-500 Mio EURO]
Real estate logistics/-value generation in the context of large to very large site- and project developments. (we guess this means hotels?)
The company closely works with institutional investors such as CH/GER/EU pension funds and investment funds.
Joachim Marusczyk is Managing Director of Intercity, which is one of three brands within Deutsche Hospitality, the re-branded name for Steigenberger Hotels, the hotel representation and management company, started in 1930 by Albert Steigenberger.
Steigenberger was sold to Travco, an Egyptian company, in 2009.  They have 118 hotels (2018) either under management or lease, mainly in Germany with a small number in Egypt, Belgium, China, Dubai, the Netherlands, Austria, Switzerland, Spain & Turkey…many still branded Steigenberger. 40 of the hotels are under the Intercity brand.
Just a month ago, Deutsche Hospitality replace Puneet Chhatwal, who has gone to Taj Hotels, as CEO with Thomas Willms, who himself was SVP Starwood Hotels Central & Eastern Europe.
Gerard van Liempt, CEO of Patrizier Beteiligungs AG, added, "The team of Patrizier Beteiligungs AG and Swiss based Architect Stephan Renner AG are pleased to announce the delivery of a turnkey 260 room hotel, the IntercityHotel in Rümlang near Zurich Airport scheduled for opening in Summer 2020.
Just like Deutsche Hospitality, Patrizier Beteiligungs AG is seeking to pursue a course of expansion. For this reason, we are planning further joint projects."
THPT Comment: Not sure why they changed the name from Steigenberger (well-known and respected in the industry for many years) to Deutsche Hospitality, somewhat restrictive for a global company operating 10 countries? Good luck with this entry into Switzerland for Intercity.
First Seen: Deutsche Hospitality website