Date: August 2018
Location: Jacksonville, Florida, USA
Name: TBA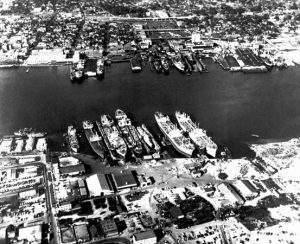 No. of Keys: 350
Seller: City Council
Buyer: Jacksonville Jaguars owner Shad Khan unveiled plans to construct a 490,000-square-foot convention centre and hotel on land sandwiched between the long-vacant Shipyards property on downtown's waterfront and Metropolitan Park, an ambitious project that would transform formerly industrial land and almost certainly require major buy-in from city taxpayers.
Khan's announcement came a day after city staffers unsealed bids to build a convention center and hotel on a different piece of star-crossed public property: the old Duval County Courthouse and City Hall Annex several blocks west.
The specifics of Khan's proposal — a campus with 200,000 square feet for an exhibit hall, a 40,000-square-foot ballroom and 350-room hotel — matches exactly what the city said it was looking for from bidders. It has an estimated value of between $425 million and $450 million.
Khan's proposal would put the convention centre adjacent to the Sports Entertainment Complex, where Khan has other ambitions for major developments, including on Lot J, a plot of land next to TIAA Bank Field that Khan wants to turn into an entertainment zone.
The announcement also creates a stark choice for city leaders: Let Khan handle the convention centre, or possibly do it without him.
"The Shipyards is the optimal and obvious site for a new Jacksonville convention center," Khan said in a statement. "First, you have the prime riverfront access and the sense of being a true destination that only the Shipyards can offer. Then, you have the synergies with the existing sports venues plus the anticipated mixed-use development planned for Lot J."
Renderings from Khan appear to show a development that is closer to and at least partially built on Metropolitan Park, which sits on the riverfront, rather than the property traditionally referred to as the Shipyards, which is west of the park and TIAA Bank Field. The drawings also depict an area that has been cleared of the Hart Bridge's elevated ramp, a project the city is set to begin within months.
Jaguars President Mark Lamping said the removal of those ramps must come first, putting the timeline for this project no earlier than the first part of 2021.
Earlier this year, Khan announced he was partnering with The Cordish Companies, a nationally known firm specialising in downtown turnaround development, on a $2.5 billion development extending from the Sports Entertainment Complex to the downtown waterfront.
Part of that mega-development includes Lot J, which sits near the stadium. Renderings showed clusters of high-rise buildings that would have hotel, office, residential and convention space in them — 4.25 million square feet of space.
The hotel and convention center are the first phase of that overall development.
City leaders have for years viewed Khan as the rare patron saint with the financial wherewithal and business incentive to finally develop the Shipyards and the vacant strips of riverfront land that lead to Metropolitan Park.
But that doesn't mean the development comes without uncertainty. Khan had the top ranking in 2015 to build on the Shipyards, but he never finalised a development deal with the city.
Although city officials have long pined to move the current Prime Osborn Convention Center on Water Street east toward the downtown core, the city's analysts have said building a new convention center isn't yet economically feasible.
That means the choice between a convention center at the old courthouse and city hall or one near the stadium is mutually exclusive: The city can't support two such facilities so close together.
Lamping wouldn't speculate about a Plan B if the city decides to proceed with a convention center at the old courthouse property.
"The city is going to have to make a decision," he said.
Actual shipyards operations left the 30-acre Shipyards property contaminated. The city has $13 million set aside for cleaning up the contamination, but it's not clear that would be enough money to do the job. That could become a substantial portion of what taxpayers will have to chip in for the convention center to work.
Lot J is also contaminated and it's unknown what the costs of cleanup would be, if it were necessary. It's also not clear if more rigorous development on Metropolitan Park, formerly a refinery tank farm, would require remediation.
A 1986 Environmental Protection Agency report found "possible contamination of soil and groundwater in the area" of Metropolitan Park, including elevated levels of lead and pesticides. A follow-up report in 1996 also found pesticides in the ground.
Taxpayers would likely bear the burden of remediation costs, which could reach tens of millions of dollars.
Under a previous draft deal between Khan's Iguana Investments and the city, Iguana sought the ability to terminate its contract if environmental cleanup costs — which the city would have been responsible for paying — exceeded $35 million. Downtown development officials countered with an option for the city and Iguana to mutually agree the city would cover costs above $35 million, rather than an automatic termination.
Khan said his firm, Iguana Investments, will be part of a development trio that includes DeBartolo Development Company — which is headed by the former owner of the San Francisco 49ers — and Jacksonville-based Rimrock Devlin Development, which submitted a bid to build on the old courthouse and City Hall property.
DeBartolo and Rimrock Delvin each gave $12,500 in May to the mayor's political committee, Jacksonville on the Rise.
Khan said the hotel plans include a rooftop pool and ground-floor retail and restaurant space that would front Bay Street.
Renderings released Thursday also showed a public parking garage with a pedestrian bridge across Bay Street, green space that would serve as "future convention expansion" area, a marina and boat dock, and a riverfront plaza.
THPT Comment: Well we have seen sports players move into hotel development, both Stateside and in Europe…but not to this level of around US$450m…should be interesting to see where Mr Khan and the city fathers get to on this!
First Seen: Hotel Online