Date: July 2018
Location: Piccadilly, Manchester, UK
Name: Toyoko Inn Manchester – opening 2020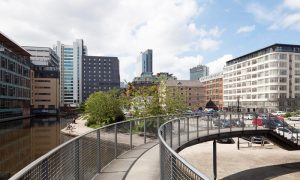 No. of Keys: 350
Seller: The listed Union Bank building…. the Union Bank was an early joint stock bank in the industrial heartland of Lancashire, established in 1836 with a capital of £6 million divided into 24,000 shares of £25 each.
Although the original intention of the Union Bank was to confine itself to Manchester, after twenty years this policy was changed, and its first branch opened at Knutsford in 1856.
The bank flourished with the growth of industry and acquired several smaller banks in Lancashire, Cheshire and Yorkshire. It became an affiliated bank within the Barclays Group in 1919.
This was Barclays' last major acquisition before the UK Government Treasury put a block on major banking mergers in 1920.
Since Barclays vacated the four-storey, 11,500 sq ft building, various schemes have come forward.
In 2007 Aneel Musarrat's MCR Property proposed a nine-storey office scheme along with adjacent new build, while various hotel proposals were mooted, culminating in a scheme by pod operator Yotel for a tower, consented in 2013.
Buyer: Japanese hotel group Toyoko Inn, who  expect to start work on its Manchester hotel in early 2019. The group is submitting revised plans for a 22 storey project.
Toyoko Inn, one of Japan's largest hotel brands, specialises in affordable business ventures, with a strong footprint across Asia, it has recently launched its first European hotels in Frankfurt and Marseilles.
The company was established in 1986, and now has 50,000 guest rooms in some 270 hotels, mainly in Japan…the company is headed by Maiko Kuroda, President & CEO, who says she wants to build it into 500,000 rooms in the next 30 years!
Planning permission for this venue was granted in 2013. Since acquiring the site in 2014, Toyoko Inn has been working to refine the proposals with the design, led by Manchester-based Stephenson Studio, seeking to preserve as much of the exterior architecture and unique appearance of the Union Bank Building as possible.
A refreshed planning application, being prepared by GVA HOW Planning, will be submitted soon with construction targeted to begin in early 2019.
Tamaki Hashimoto, project lead at Toyoko Inn, said: "Our concept of modern, Japanese-style inns located near railway stations has led to rapid growth inside Japan and worldwide expansion. We are looking to expand further in Europe.
"We have chosen Manchester for our first UK hotel because it is one of the UK's flagship cities with growing visitor numbers. We are confident our brand will appeal to the growing number of visitors to Manchester from the Far East as well as a more local customer base of business travellers looking for a 'feel at home' atmosphere."
THPT Comment: Wow, this hidden gem of a major player in Japan hits Europe from Frankfurt, to Marseilles and now Manchester…we look forward to seeing the ten times expansion they now have.
First Seen: Insider Media