Date: August 2018
Location: In the TWA terminal in New York City's JFK Airport, USA
Name: The TWA Hotel – now accepting bookings for meetings and events starting in spring 2019.
No. of Keys: 512
Seller: In 1994, the terminal was declared a city landmark by the New York City Landmarks Preservation Commission, which prevented its demolition. In 2005, the National Park Service listed it on the National Register of Historic Places.
The boarding gates were demolished when Terminal 5 occupied by JetBlue Airways was constructed.
In April 2015, The Wall Street Journal reported that JetBlue and its partner, a hotel developer, were negotiating for the rights to turn the head house into a hotel.
In July 2015, New York Governor Andrew Cuomo confirmed that the Saarinen building would be converted into a new on-site hotel for the airport's passengers.
Buyer: MCR (operator) and MORSE Development (developer) ….MCR is the 7th largest hotel owner-operator in the United States with a $2.0 billion portfolio of 94 premium-branded hotels with over 11,200 rooms across 24 states and 67 cities.
MCR has acquired or developed approximately $1.3 billion of hotel real estate since its inception, focusing primarily on the Marriott and Hilton brands.
the hotel will have 50,000 square feet of event space and outdoor terraces, including the 15,000-square-foot Starstream Ballroom and the Flight Center Ballroom.
There will also be an additional 200,000 square feet of flexible space in the former TWA terminal, including outdoor terraces and an observation deck, as well as 45 flexible event rooms. All told the property will have space to host events of up to 1,600 people.
Event planners will also be able to take advantage of A/V and teleconferencing equipment with onsite experts, plus onsite staff to handle logistics, dedicated onsite event planners and a day-of meeting concierge.
Also available will be custom food and beverage ranging from cocktails to four-course dinners, as well as a kosher kitchen. Third-party catering will be allowed, and the hotel will also have 5GB Wi-Fi.
The hotel's 512 guestrooms will include 44 suites. There will also be five hospitality suites. Other amenities will include a 10,000-square-foot fitness facility, six restaurants and eight bars.
The hotel will be accessible via public transportation by the AirTrain to Penn Station, as well as via a connection to JetBlue's Terminal 5.
The property will also be a two-minute, 45-second walk to Terminal 4, which hosts Delta and 30 other carriers, as well as a five-minute AirTrain ride to all other terminals. There will also be valet parking, 4,000 parking spaces in adjacent garages and bus parking in adjacent garages.
Many of the TWA Flight Center's original details, such as the custom ceramic floor tiles and the 486 variously-shaped window panels, are being replaced with replicas of the originals.
These details are intended to give the hotel a 1960s-era vibe, and include brass lighting, walnut-accented furnishings, and rotary phones. The hallways contain red carpeting, evocative of the colour of the furniture in the original TWA lounge.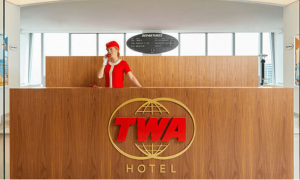 THPT Comment: Well this out-Yotels Yotel for hotels in airport terminals! … MCR and Morse appear to both headed up by Tyler Morse
First Seen: International Meetings Review