Date: August 2018
Location: Dominica, in the Lesser Antilles region of the Caribbean.
Name: Cabrits Resort & Spa Kempinski Dominica – opening 2019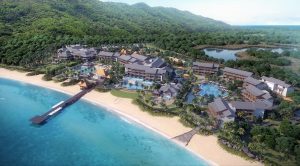 No. of Keys:
Developer: Range Developments, headed up by Munaf Ali, CEO, is an international property company developing hotel resorts in the Caribbean, including the Park Hyatt St Kitts, opened in 2017 and still to come Ritz-Carlton at Black Bay in St Lucia. The project is a JV between Grange and the Government of Dominica.
This luxurious island hideaway is surrounded by Cabrits National Park in the Commonwealth of Dominica. Known for its natural beauty and eco-tourism, Dominica is home to 365 rivers, waterfalls and hot springs.
Cabrits Resort & Spa Kempinski Dominica has been designed to preserve the natural balance between land and the sea, whilst ensuring a modern contemporary guest experience.
They have just appointed Michael Schoonewagen to be general manager.
Commenting on this appointment, Xavier Destribats, chief operating officer for Kempinski in the Americas, said: "We are delighted to welcome Michael to the Kempinski family.
"With his successful track-record of managing luxury resort properties in pioneering destinations, and his focused expertise in the luxury segment, I am confident that Michael will build on our considerable momentum in the region with the opening of Cabrits Resort & Spa Kempinski Dominica next year."
Schoonewagen is an experienced and passionate hotelier with some 30 years of experience and deep expertise in luxury resorts, honed in missions across Europe, the South Pacific, Indian Ocean, and Caribbean with renowned luxury brands, such as Belmond La Samanna, St Regis Bora Bora and Royal Mougins Golf Resort..
He will lead the team to open this first luxury resort for Kempinski in Dominica, working closely with partners, Range Developments, to position the island as the new go-to luxury travel destination in the region.
THPT Comment: Range seem to specialise in inviting investors to join government approved real estate projects, whereby, for example in Dominica, under the Citizenship by Investment Program, a minimum investment of US$ 220,000 in the project will entitle investors and their families to the citizenship of the Commonwealth of Dominica.
First Seen: Kempinski website