Date: July 2018
Location: Shinjuku, Tokyo, Japan
Name: Kimpton Tokyo Shinjuku – opening 2020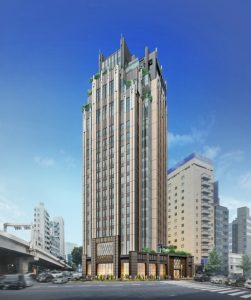 No of Keys: 162
Owner: Tsukada Global Holdings Inc, is one of the leading hospitality companies in Japan, with a focus on actively developing its hotel, restaurant, bridal, wellness and relaxation businesses.
They are a long-time IHG development partner, and own four hotels including InterContinental Tokyo Bay and The Strings by InterContinental Tokyo.
Beside the bespoke hotel rooms, it will feature three meeting spaces that accommodate up to 300 people, a well-equipped wellness studio, and a multi-function chapel.
As the industry pioneer that first introduced the boutique concept to the US more than 35 years ago, each Kimpton hotel is individually designed to blend the surrounding environment with local culture to deliver a memorable boutique experience – both authentic and reflective of the location.
Kimpton was acquired by IHG in 2014 for US$430m.
Japan is the newest market for the Kimpton brand, continuing the recent growth trajectory with signings in Greater China and South-East Asia, as well as the 2017 opening of Kimpton De Witt in Amsterdam.
There would be few places more fitting for this hotel than Japan's Shinjuku, the world-famous skyscraper district that showcases many of Tokyo's tallest buildings, as well as department stores, subterranean malls, electronics shops, and Kabukicho, one of Japan's largest and most lively entertainment districts. It's also home to the world's busiest railway station, which serves more than two million passengers every day.
Kimpton Tokyo Shinjuku will provide three locally-inspired restaurants that will allow guests and locals alike to embark on uniquely distinct dining experiences.
In Kimpton style, the property will offer signature perks such as complimentary morning coffee and tea in the living room lobby and an evening social hour, giving guests an opportunity to unwind and recharge.
There are currently 66 Kimpton hotels open globally, with another 20 in the pipeline, including Kimpton Bali, Kimpton Shanghai Jing'an, Kimpton Resort Sanya Haitang Bay and Kimpton Hotel Taipei.
IHG currently has 33 hotels operating under three brands in Japan, including InterContinental, ANA Crowne Plaza, Holiday Inn, with a growing future pipeline, including ANA InterContinental Beppu Resort & Spa, Hotel Indigo Hakone Gora and Hotel Indigo Inuyama Urakuen Garden.
THPT Comment: IHG continue their stride forward in Japan, as well as for the Kimpton brand.
First Seen: eHotelier