Main Photo: The new five-star hotel for Newcastle, NSW
Date: July 2020
Location: Newcastle, New South Wales, Australia

Name: Kingsley
No. of Keys: 130
Seller: The property was once the city's Council Administration Centre.
Buyer: Kingsley, a Crystalbrook Collection Hotel, will open to guests in early 2021. The first renderings inside 'Kingsley', which will become Newcastle's first five-star hotel have been released today by Crystalbrook Collection.
The hotel is nearly complete in its transformation into the 130-room hotel, which will become the group's third in NSW behind Little Albion in Sydney and Byron at Byron Resort on the state's northern coast. Guest facilities will include a rooftop restaurant and bar, designed after Newcastle's olive groves, which will line the corridor and create a canopy over guest tables. The hotel will also feature a lobby bar and café with an outdoor terrace along with two private meeting rooms.
The hotel will feature 130 spacious rooms, designed to suit the building's circular exterior.
Led by EJE Architecture and designed by Suede Interior Design, the building's revamped look has been inspired by Newcastle's working-class heritage and celebrates brutalist 1970s designs, with a colour scheme complementing the masonry edifice of the original structure. The hotel's name harks back to the area's original name of Kingston, which dates back to 1804.
Interior designs have drawn on curves and linear rhythm to fit within the circular building. Crystalbrook says the colour scheme is inspired by the "Black Canary" and the area's coal mining history. The neutral palette has been broken up by bouts of yellow in various shades.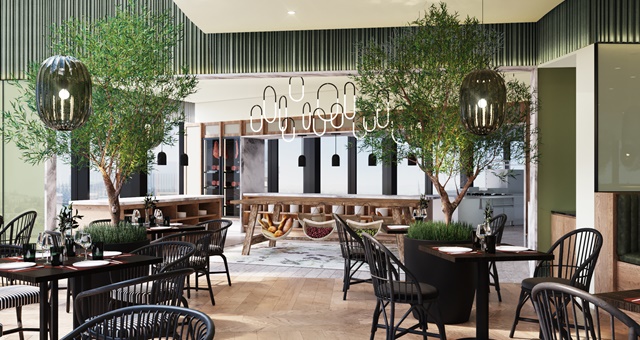 Kingsley will feature a rooftop kitchen and bar decorated with olive trees.
Rooms are spacious and maximise the available area within the building's individualistic design. The hotel will operate sustainably from its opening, with upcycled and recycled materials along with locally sourced products. Kingsley remains on track to open in the first quarter of 2021.
THPT Comment: Interesting shape to the building and making good use of an old civic council office building.
First Seen: Hotel Management Australia
The Hotel Property Team (THPT) is a small group of highly experienced business professionals. Between us, we provide a range of skills and experience which is directly relevant to those involved in the hotel property market.
For more information – Visit www.thpt.co.uk or email info@thpt.co.uk