Main Photo: The new Langham Place, Changsha
Date: May 2021
Location: Within the Da Wang Shan Resort, Changsha, China
Name: The Langham Place, Changsha
No. of Keys: 295
Seller: TBA
Buyer: Langham Place, Changsha opens as Langham Hospitality Group's 13th hotel in China, and the 25th property in the group's growing global portfolio.
The 295-room hotel is located within the expansive Da Wang Shan Resort, a world class tourist destination southwest of Changsha. The complex is surrounded by striking natural landscapes, which include the Da Wang Shan, Xiang River, Tongxi Lake, Baxi Island and Xiangjiang Happy City.
Within Da Wang Shan Resort and easily accessible by hotel guests are multiple entertainment and amusement parks which include one of the world's largest indoor ski slopes, Snow World, The Deep Pit Ice, and a water park featuring a 60 metre high waterfall.
"We are very proud to introduce Langham Place, Changsha to the city and manage this new landmark hotel within this dynamic entertainment complex," said Stefan Leser, chief executive officer of Langham Hospitality Group. "The arrival of our brand and the opening of this stunning hotel will further enhance the guest's experiences at Dawang Mountain Resort and this historically rich city of Changsha."
"We are honoured to partner with Langham Hospitality Group, and are delighted to introduce luxury hospitality to the Da Wang Shan Resort, our landmark tourism project for this region," said Mr. Zhao Chunhua, chairman of Huanian Cultural Tourism under Xiangjiang Group. "Together, I am confident we will put Changsha on the map as a must-visit destination for travellers."
Designed by renowned international architect Wolf D. Prix of Coop Himmelblau, the pioneer of contemporary architecture in exploration and deconstructivism, and whose award-winning designs include Musee des Confluences in Lyon, France; Busan Cinema Centre in South Korea and BMW Welt – a brand experience centre in Munich, Germany.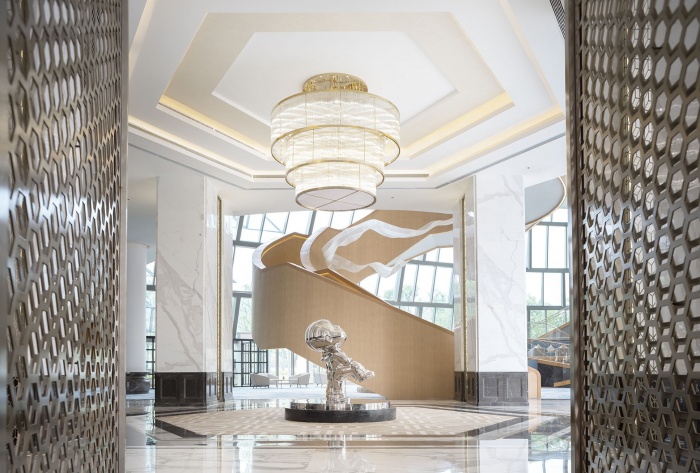 Connected to Snow World via a plaza, the iconic hotel tower is specially designed with a highly economical system providing state-of-the-art sun shading and natural ventilation.
THPT Comment: Looks like a very stylish design for this, Langham's 25th hotel, in Changsha, China.
First Seen: 4Hoteliers
The Hotel Property Team (THPT) is a small group of highly experienced business professionals. Between us, we provide a range of skills and experience which is directly relevant to those involved in the hotel property market.
For more information – Visit www.thpt.co.uk or email info@thpt.co.uk.