Date: July 2018
Location: 1500 Collins Avenue, South Beach, Miami, Florida, USA
Name: AxelBeach Miami – opening late 2018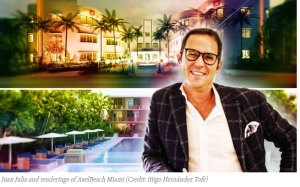 No. of Keys: 163
Seller: Rockwood Capital sold the hotel, after paying $34.5 million for the property, including the historic 123-room Haddon Hall — built in 1940 and designed by famed architect L. Murray Dixon — and the adjacent 45-unit Camden Apartments in Miami Beach in 2013.
The investment firm renovated the 1.4-acre property and re-opened it all as a hotel in 2015.
Buyer: Spanish conglomerate Grup Peralada, through its affiliate Inverama USA Corp., bought the former Hall South Beach hotel in January 2018.
Trading as Axel Hotels, it's founder and president being Juan Julia.
Barcelona-based Grup Peralada is owned by the Suqué-Mateu family, and has 7 hotels in Europe and casinos as well as wine and other businesses under its umbrella.
"We've been looking for different locations in the United States, and my preferences were Miami and New York, as I prefer the East Coast rather than the West Coast," Julià said. "These cities are the more well known and very connected to Europe and South America, and worldwide."
The Miami Beach Historic Preservation Board on Tuesday approved some modifications of the 1.4-acre property, which runs from Collins Avenue to Washington Avenue. Among them, the hotel can place signage on its Collins Avenue facade, add an opening in its lobby and relocate an outside bar from the south side of the property to the north side under a large ficus tree, said architect Jason Hagopian, managing principal of the TSAO Design Group.
Julià said the hotel plans to spend about $1 million on the modifications. The property owners will also invest an undisclosed amount for plumbing and structural improvements. Axel Hotels' Barcelona-based architect Iñigo Hernández Tofé is overseeing the project.
Julià founded Axel Hotels 15 years ago, with a desire to launch a hotel aimed at the LGBTQ community.
Today the brand operates two hotels in Barcelona, two in Berlin, and one, each, in Madrid, Ibiza and the Canary Islands. The hotel considers itself "hetero-friendly," with about 20 percent to 30 percent of its guests heterosexual, Julià said.
Axelbeach Miami's amenities will include a pool, gym, spa and sauna with massage rooms, restaurant and bar. The average daily rate is expected to be $200.
Price: US$58.2m
Price per Key: US$357,000
THPT Comment: Apart from attitude we guess there is little difference in a hotel aimed at heterosexual guest or otherwise.
First Seen: The Real Deal