Date: August 2018
Location: Old Town, Edinburgh, Scotland, UK
Name: NYX Hotel Edinburgh – Building to start 2019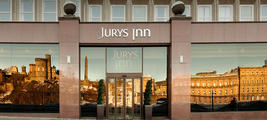 No. of Keys: 131 and 31 apartments
Seller: Fattal Hotels acquired the freehold of the Capital hotel and adjacent land on Jeffrey Street from property company William Pears Group for an undisclosed sum. It is a listed building, adjacent to the Jurys Hotel
Buyer/Owner:  Fattal Hotels Group, who became operating partner with Pandox who acquired Jurys from Lone Star in late 2017
Edinburgh is set to welcome a new luxury lifestyle boutique hotel after it was announced that the global hotel group is investing £32 million in the city.
The Old Town site that will house the new NYX Hotel Edinburgh, the first of its kind in the UK, is adjacent to Jurys Inn on Jeffrey Street whose freehold has been bought over by the Fattal Hotels Group.
The existing Jurys Inn Hotel, opened in 1998, will see its 186 rooms revamped and the building expanded to the rear as part of the redevelopment.
The ambitious plans include the conversion of the nearby listed building, 57 to 59 Jeffrey Street, into the new 131-room hotel and a separate development in the same building of 31 new residential units.
The new NYX Hotel Edinburgh is a 'lifestyle concept hotel' tailored for 'unique individuals looking for inspiration'.
The hotel will be part of the fourth brand within the Leonardo Hotel stable, which is the European arm of the Fattal Hotels Group.
There are currently six boutique NYX hotels worldwide – in Tel Aviv and Herzliya, Israel, Milan, Prague, Madrid and Munich.
The hotels have sprung up in the global locations since early 2017. Named after the Greek goddess of night, the hotels aim to open up 'an inspiring and creative sensual world to their guests.'
The new Jeffrey Street hotel will comprise a restaurant, bar and lounge that will 'transform into a vibrant club" as the wee small hours approach.
Plans for Jurys Inn include the addition of 101 bedrooms as well as an extensive upgrade of its public and private interiors.
The distinctive concrete frontage will remain untouched but the signage may change. Jason Carruthers, managing director of Jurys Inn, said: "We are pleased to have acquired the freehold of our very successful Jurys Inn Edinburgh hotel and the adjacent site, which will allow us to transform the site and significantly enhance our product offering and overall capacity in Edinburgh.
"Our Edinburgh hotel already runs at over 95 per cent occupancy and the acquisition of the freehold there puts us in a strong position to capitalise on the ongoing influx of tourists to the vibrant city of Edinburgh and to leverage the prime location of our hotel and the adjacent site, which we look forward to developing."
The transaction is expected to close later this year. It remains to be seen if the worldwide hotel group will be in favour of the Edinburgh city council-proposed tourist tax which could bring in much-needed cash for the Capital's festivals and other events and is forecasted to raise up to £15 million a year.
THPT Comment: Bold move on this rather outdated Jurys and will be a great new move for Edinburgh's hotel scene. Good to see Fattal's new NYX brand debut in the UK.
First Seen: Edinburgh Evening News