Date: February 2018
Location: Times Square, New York, USA
Name: Time Square Edition Hotel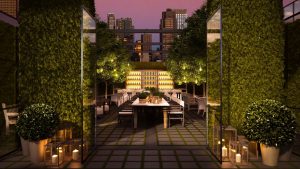 No. of Keys: 452
Seller: Steve Witkoff, Ian Schrager, investment firm New Valley and investment
trust Winthrop Realty Trust. Sale to complete April 30th 2018. Cushman & Wakefield will advise the sellers on the hotel sale.
Winthrop bought the site of the hotel, which is currently under construction, in 2012 for $430 million. The site is being redeveloped from an 11-story office building. The group signed the hotel in 2012 and began construction on the project in the same year.
Steve Witkoff, head of the Witkoff Group, said in 2016 the 39-story hotel with 452 guestrooms was facing several delays mainly due to complications with the development site.
Now, the new Edition (Marriott) location is scheduled to open in spring 2018.
The building will have retail space, including a portion that the National Football League will rent for a new store.
Buyer: Real estate developer Maefield Development and SoftBank's Fortress Investment Group.
Partners Maefield and Fortress own a small stake in the hotel property. The new deal will give the firms full ownership of the property as they will also buy out Carlton Group, another equity partner in the hotel and former adviser on the JV ownership.
However, Winthrop will finish the construction of the hotel on Maefield's behalf.
Maefield's other projects include the redevelopment of the Paramount Theatre site with Fortress and L&L Holding.
The developers for the project are seeking a $1.3-billion construction loan to revive the Paramount Theatre, expand the hotel and create new retail and LED signage.
Witkoff and Michael Ashner, chairman and CEO of Winthrop Realty Trust, purchased a portion of the project's $75-million mezzanine loan to fund the refurbishments. Also Witkoff is in partnership with Marriott on the new Drew hotel due to open in 2020 in Las Vegas
Price: US$1.53bn
Price per Key: US$3,384,956
THPT Comment: I guess this is what you call the Big Guy's league! at $3.3m a key…. and did they all remain friends?
First Seen: Hotel Management