Date: July 2018
Location: Toulouse, France
Name: Mama Shelter Toulouse – opening October 2018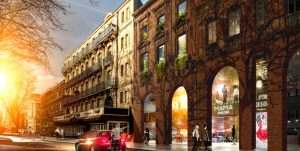 No. of Keys: 120
Seller: Toulouse City Hall, who owned the former site of Les Nouveautés, which housed a theatre and then a cinema.
Buyer: Eiffage Immoblier, whose President and CEO is Benoît de Ruffray, is a substantial housing builder started in 1844. Their involvement in hotels includes the Grand Hotel Dieu, Lyon, the fifth InterContiental in France and the 125, four star Curio by Hilton in Dijon, with the Naos Group to open in 2019.
After nearly two years of work and a total cost of 24 million euros, Mama Shelter's new hotel project is taking shape in Toulouse. "The first rooms are starting to be made available for furnishing," says Nicolas Collot, in charge of the project for Eiffage Immobilier.
Still in working order, the property will consist of a 480 m² restaurant-bar, a cinema room that can accommodate around fifty people, meeting rooms and a rooftop.
Toulouse City Hall wanted the exterior façade of the old cinema to be preserved.
Investment: €24m
Cost per Key: €200,000
THPT Comment: Not often we hear about a cinema being converted into a hotel, but then Mama Shelter, now 35% owned by Accor, is no ordinary hotel company. Hats off to Jeremie Trigano, Mama's CEO
First Seen: Hospitality On