Date: February 2018
Location: Las Vegas, Nevada, USA
Name: The Drew Las Vegas, a JW Marriott Hotel (the first on the Las Vegas strip) and The Edition (three hotels) to open late 2020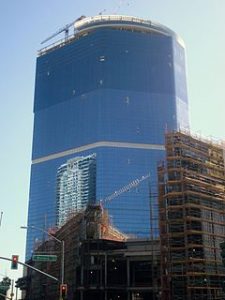 No. of Keys: 4,000 plus 500,000 sq. ft. convention space
Seller: The Fontainebleau Las Vegas was announced in May 2005, with initial plans to begin construction by March 2006, and to have the resort opened by 2008.
Construction began in February 2007, but was stopped in 2009, when the project went into bankruptcy. The project, upon completion, was expected to include: a 95,000 sq ft casino, a 60,000 sq ft spa, 3,300-seat performing arts theatre, 2,871 hotel rooms, 1,018 condominium units, 180,000 sq ft of retail space, 400,000 sq ft of indoor and outdoor conference space, nightclubs, and 24 restaurants and 6 lounges.
The building was designed by Carlos Zapata Studio with Bergman Walls Associates as the architect of record.
Buyer: In August 2017, the unfinished resort was sold to investment firms Witkoff Group and New Valley LLC for $600 million. The new owners plan to resume construction in 2018 and open the resort in late 2020.
THPT Comment: to come!
First Seen: Marriott website and Wikipedia