Date: April 2018
Location: London Heathrow Airport
Name: Moxy Heathrow – Just opened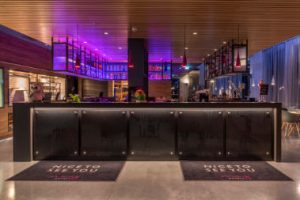 No. of Keys: 437
Seller: Schroders and a private company, had what was Europa and Axa House, which was empty since the 1980's
Developer: Vastint Hospitality, part of the Inter IKEA Group (yes that IKEA), constructed the Moxy Heathrow, based on a land purchase in August 2013.
Operator: Belvar, HQ in Amsterdam, which already operates 11 Moxy hotels and three Courtyard by Marriott hotels, will run the latest addition to the Moxy portfolio. Currently they are in Italy, Germany, Norway, Netherlands, Belgium as well as the UK.
The partnership between the real estate developer Vastint and Belvar began in 2010, and since then they opened 13 Moxy Hotels and 3 Courtyard by Marriott Hotels, operated by Belvar under franchise agreement with Marriott International.
Three additional Moxy hotels are coming in 2018 and another twenty newly-built hotels are planned to open in 2019/2020.
The company also has its own restaurant brand called Gård Nordic Kitchen, which it will debut in the UK market at Moxy Heathrow.
Aga Maciejewska has been appointed "captain" of Moxy Heathrow, the brand's twist on general manager. This is her first UK hotel opening following a number of global management jobs with Marriott.
She commented: "The Moxy brand has been developed to be more than just bedrooms, it's a way of doing things differently in the hotel arena. The way it has been designed as a tech-friendly hotel with a great bar and playful crew all represent an important part in the experience of staying at the hotel."
Moxy is one of 30 brands owned by Marriott International. It made its European debut in 2014 with the launch of a property in Milan. It has has since grown to 20 hotels worldwide, with a further 90 properties in the global pipeline.
Four more Moxy hotels are slated to open in the UK in 2018, including Glasgow (181 rooms), Edinburgh (230 rooms), Southampton (209 rooms) and York (119 bedrooms).
They will join Moxy's three existing UK hotels at Aberdeen Airport and in London at Excel, Stratford and now Heathrow.
Price: it was estimated at US$26m (construction only? or including land?)
Price per Key:
THPT Comment: Marriott tells us that "Moxy is a fun, vibrant and stylish hotel designed to give guests everything they want and nothing they don't at an affordable price." Not sure why this means they don't call the GM a GM!
OK it's only just opened but rooms from £58 and £68 (inc VAT/tax) per night is pretty good!
First Seen: Space, International Hotel Design Space is a great place to find out design news on new and refurbished hotels