Date: August 2018
Location: Conwy Valley, bordering Snowdonia National Park, North Wales
Name: Caer Rhun Hall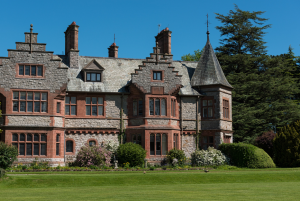 No. of Keys: 32 growing to 80 by the end of 2019
Seller: The large, three-story grade II listed building was built for General Hugh Gough, a former Commander-in-Chief in India, in 1882 and retains a wealth of original features. The Anderson family ran the property as an accountancy school for some 60 years, and sold Caer Ruhn Hall for around £1m in 2015 to MBi Consulting.
Buyer: West Yorkshire-based Northern Powerhouse Developments (NPD), has announced the opening of its latest property – Caer Rhun Hall, a three-storey, late-Victorian mansion with a private house atmosphere.
The North Wales luxury accommodation, which is set in 20 acres of rolling parkland and gardens, is the latest addition to the company's portfolio of 18 stylish hotels either open or in development.
The Grade II listed building was acquired two years ago and has undergone an extensive, multi-million pound refurbishment, creating 32 bedrooms in exclusive surroundings. The hotel will add further rooms in the grounds, growing to 80 by the end of 2019.
Richard Lewis, CEO NPD Hotels said, "Caer Rhun Hall is a magnificent property in a wonderful location in the heart of the Conwy Valley, bordering Snowdonia National Park. Our sympathetic refurbishment has created a venue which will initially operate as luxury accommodation with breakfast, and which will also cater for weddings and events. In the next 18 months we will add a restaurant and spa as we develop Caer Rhun into a Manor House with boutique feel, destination hotel and spa."
In May, NPD announced the acquisition of Grade II listed Monk Fryston Hotel near Selby, boosting its portfolio of Yorkshire properties which also includes the Imperial Crown Hotel in Halifax, the Old Golf House Hotel in Huddersfield, Scarborough's Esplanade Hotel and The Gilsland Hotel Spa bordering on Cumbria & Northumberland.
THPT Comment: No stopping Northern Powerhouse Development…now 18 hotels…great progress. North Wales now boasts some really fab hotels.
First Seen: Hotel Space Online