Main Photo: The new five-star all-suite Woodward Hotel overlooking Lake Geneva
Date: May 2021
Location: Quai Wilson, on Lake Geneva shore, Switzerland
Name: The Woodward – to open September 2021
No. of Keys: 26
Seller: Originally built in 1901 by French architect François Durel, in a post-Haussmann style, the building has been purchased by the owner, Bastion Holding, in 2013.
Buyer: The hotel is currently under transformation: the historic façade has been preserved and all the inside were taken down. World-renowned architect Pierre-Yves Rochon has reimagined the interiors with a "classic-meets-contemporary" design.
This sanctuary has only 26 suites, 21 of which have a full lake view, some with balconies or terraces. Each of them has been carefully curated to possess its own distinct character and individual design details with signature ornamentations such as marble fireplaces and bookcases.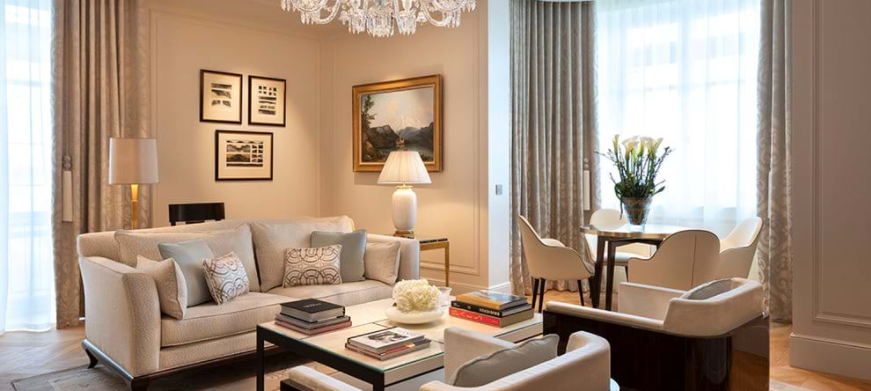 The Presidential Suite is certainly the most spectacular one. Designed in elegant ivory tones, it offers panoramic lake views from every room with a private dining room and loggia.
The Royal Suite is reached by private lift and is designed to resemble a chic Parisian apartment.
This Geneva's first all-suite hotel is managed by Oetker Collection and is scheduled to open in Spring 2021.
For Oetker Collection, the location of this 10th hotel is both in response to loyal guest request and also "seize opportunities" explains Anne Benichou, Head of Global Communications, to the Journal des Palaces: "Dynamic, cosmopolitan, enjoying a worldwide reputation, Geneva is the perfect definition where coexist perfectly a world of luxury and craftsmanship of excellence, which corresponds to our values as Oetker Collection brand. The exclusivity of the product, composed only of suites, a hotel designed as a private mansion meets also our quest of masterpieces. The history of the building is also very interesting since The Woodward was once a grand hotel, the Bellevue Hotel – and we were pleased to bring this establishment back to life and 'give it back' to the locals."
Two restaurants will offer unique culinary experiences: L'Atelier de Joël Robuchon, and vegetable-driven Le Jardinier by Michelin starred chef Alain Verzeroli, with Executive Chef Olivier Jean at the helm of the kitchens.
After 12 years at the Joel Robuchon restaurant in Monte Carlo and 7 years as Executive Chef of L'Atelier in Taipei (1*), Olivier Jean will bring a cuisine full of flavours, inspired by both Asia and Europe.
L'Atelier de Joël Robuchon has the legendary chef's open kitchen concept, creating a theatrical dining experience for 36 guests seated around the counter. It is the first and only Swiss address for the French chef.
Chef Alain Verzeroli is famous for its innovative dishes where vegetables play a starring role, many of which are vegan, and dairy and gluten-free. After New York and Miami, this will be the first restaurant in Europe. The concept of embracing nature will be reflected in the dining experience, Le Jardinier will be housed within two glass-walled verandas overlooking the lake, a homage to the conservatory of the former Grand Hotel Bellevue, closed after the Second War.
The spa is eagerly awaited as it will featured a Wellness Institute by Maison Guerlain, six wellness suites, including one double, and a 21-metre indoor swimming pool – the longest in Geneva. The perfect sanctuary will also have a state-of-the-art gym, two saunas, two steam-rooms, two Swedish baths and a hot tub.
Developed in collaboration with Maison Guerlain, the spa promises "deeply sensory, highly personalised treatments to promote wellbeing and rejuvenation". This new partnership for Oetker Collection has its origins in the shared values : "Maison Guerlain is committed to making the world more beautiful and more responsible, acts for biodiversity, sustainable innovation, the climate and solidarity, and we are perfectly in harmony with these values", explains Anne Benichou. "Of course, the prestige of the brand, its reputation and the exclusive treatments offered made us also choose this partnership".
THPT Comment: Small but perfectly-formed. The new hotel sounds exquisite. Rumour has it that one of the renowned five-star Grand Dame hotels in Geneva is for sale….Call us at THPT for more information.
First Seen: Journal des Palaces
The Hotel Property Team (THPT) is a small group of highly experienced business professionals. Between us, we provide a range of skills and experience which is directly relevant to those involved in the hotel property market.
For more information – Visit www.thpt.co.uk or email info@thpt.co.uk.