Date: February 2018 – Updated April 2018
Location, Charing Cross, London, UK
Name: St Martins Place Hotel (new brand to be announced, which may well change the name)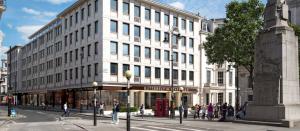 No. of Keys: 138, restaurant and rooftop bar
Seller: Welput – West End of London Property Unit Trust – part of Schroders
Developer: Best Effort Ventures (from Hong Kong), who have chosen Willmott Dixon Interiors to handle the conversion. Interior designers will be Argent and project managers CBRE.
Managing director Graham Shaw said: "We have a solid track-record in office to hotel conversions, especially in towns and cities, with an experienced team who know the particular challenges this work entails. This is also another big investment in London as one of the world's top destinations for visitors and we're proud to be playing our part in stimulating further growth for our capital."
The conversion of the 1950s building, which adjoins the Grade II*-listed St Martin's Vicarage, Vestry and School, has been designed by EPR Architects.
Operator: Butterfly Hospitality Group – operate five hotels in Hong Kong.
THPT Comment: Great location for a hotel of this class and size.
First Seen: The Caterer