Date: August 2018
Location: Seaport District, Boston, Mass. USA
Name: Omni Boston Hotel at the Seaport – opening early 2021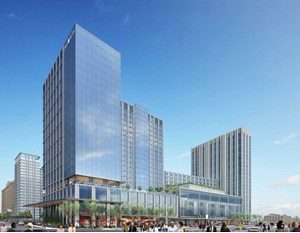 No. of Keys: 1005
Seller: Massachusetts Port Authority.
Buyer: New Boston Hospitality and Omni Hotels & Resorts will use the financing, provided by a syndicate of banks, to construct a 1,055-key luxury property.
New Boston Hospitality and Omni Hotels & Resorts have obtained financing for the development of the Omni Boston Hotel at the Seaport, a $550 million project that broke ground in May in Boston's booming Seaport District.
Acting on behalf of the developers, JLL arranged a $330.7 million loan for the construction of the 1,055-key luxury property.
The architectural team of Elkus Manfredi/Stull & Lee/Moody Nolan designed Omni Boston, and a partnership of John Moriarty & Associates and Janey Construction & Management Consulting are aboard the project as contractors.
JLL secured the financing for Omni Boston though a consortium headed by U.S. Bank, Santander and M&T Bank.
The hotel project, which will be linked to the 2 million-square-foot Boston Convention & Exhibition Centre by an underground passageway, received a warm welcome from the lending community.
"The debt markets are undoubtedly strong for large hotel construction loans where you have a combination of strong, experienced sponsorship and great real estate in a top-tier lodging market," Kevin Davis, a managing director with JLL, told Commercial Property Executive.
"For most lenders that reviewed this deal, there was a great appreciation for these factors, which drove significant interest in this deal." Davis was joined on the transaction by colleagues Bob Webster, also a managing director with the firm, and Jon Schneider, an executive vice president.
New Boston, an affiliate of The Davis Cos. and Omni are erecting the 21-story Omni Boston at 450 Summer St. on a two-acre parcel owned by Massachusetts Port Authority.
In addition to premier guestrooms, the state-of-the-art lodging destination will feature 47,000 square feet of retail space, a 13,000-square-foot spa and fitness centre and 111,700 square feet of convention space that will be home to a 25,000 square-foot grand ballroom, the largest in Beantown.
The lending community is keen on the hotel sector. Banks, CMBS and debt funds alike are actively originating loans and sentiment is overwhelmingly positive, according to a report by JLL. "Bigger picture, I do believe that the improved economy and continued RevPAR growth nationwide has resulted in banks having a greater appetite for construction lending," Davis added.
Big-ticket financing deals speak volumes about the lending climate for hotels. The list of recent transactions exceeding a quarter-billion dollars includes Flag Luxury Group's $315 million financing package for a new flagship Ritzy-Carlton hotel in Manhattan. And just last month, Thor Equities refinanced the Palmer House Hilton in Chicago to the tune of approximately $427 million.
THPT Comment: OK ignore my last comment about Santander!  Ambitious project for Omni…Upon its anticipated completion in early 2021, Omni Boston will hold the title of the fourth largest hotel in the State of Massachusetts.
First Sen: Commercial Property Executive