Date: July 2018
Location: Desaru Coast, Malaysia
Name: One&Only Desaru Coast opening TBA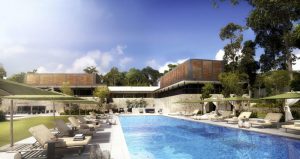 No. of Keys: 42 suites, 2 luxury suites and an exclusive 4-bedroom villa, as well as 50 One&Only Private Homes available for purchase, on a 128 acre beachfront.
This will be the first One&Only in Malaysia (and Asia proper, as opposed to Maldives and Mauritius) as part of the expanding One&Only collection, as the brand continues to grow and develop internationally.
Kerzner manages a portfolio of globally renowned, landmark destination resorts, luxury hotels and residences and innovative entertainment experiences.
As part of the continued strategic global growth of Kerzner International, Malaysia is the perfect location for the next One&Only resort and for the brand to enter Asia.
We are proud to have been selected to operate the ultra-luxury resort on Desaru Coast as One&Only and we look forward to announcing an opening date in the near future.
With the evolution of One&Only and the introduction of One&Only Private Homes, Nature Resorts and Urban Resorts, One&Only Desaru Coast will be an incredible beach destination, with an exclusive residential community," said Michael Wale, Chief Executive Officer, Kerzner International.
One&Only was conceived as a hallmark of excellence, set in some of the most beautiful locations in the world.
Glamourous in style but wonderfully unstuffy by nature—One&Only offers guests a distinctive style and personality borne of its local culture, and genuine hospitality that is unparalleled.
"One&Only resorts are the ultimate bespoke experience and each resort celebrates their location, with an independent spirit that reflects the same passion for life that our guests have.
We find the most stunning destinations to create beautifully rare places for our guests to play, to dream, to work, to connect, reconnect and discover the new. As with all properties within the portfolio, our resort in Malaysia will be incredibly private, yet buzzing with life and energy," commented Philippe Zuber, President and Chief Operating Officer, One&Only Resorts.
Accessible from Singapore Changi International Airport and Senai International Airport in Johor, Desaru Coast is the new premium integrated destination located in the south-eastern region of Malaysia, in the state of Johor.
Like all properties within the One&Only collection, the resort, designed by award-winning architectural firm, Kerry Hill Architects, will place an emphasis on privacy, providing the ultimate hideaway.
One&Only Desaru Coast will also be home to an indulgent destination spa, introducing traditional and holistic practices fused with modern spa therapies, with overall wellness at its core.
A cutting-edge fitness centre –featuring both indoor and outdoor spaces–will also be part of the overall lifestyle offering.
The destination is a golf-lover's paradise with The Els Club Desaru Coast nearby, featuring both the Ocean Course, a 27-hole layout designed by 4-time Major Champion, Ernie Els and the Valley Course, a further 18-holes designed in collaboration with Els' long-standing friend and fellow major champion, Vijay Singh.
The resort will become a culinary destination, offering three restaurants, a dynamic bar for the latest in mixology and a Beach Club, each defined by their own distinct ethos, energy, design and flavour, showcasing the bounty of the region.
The Beach Club will be a vibrant location where guests and residents alike will want to linger at the water's edge for hours, to lounge, socialise or play.
New experiences will be introduced to discover the best of both land and sea – full of adventure.
As with all One&Only properties, the resort will offer innovative programming for families with children whilst carefully preserving space for adults only as well.
THPT Comment: Interesting that this first venture into Malaysia is quite small as a hotel, albeit with around 50 residences and vast beachfront acreage.
First Seen: Hotel News Resource