Date: July 2018
Location: Somerset County, New Jersey, USA
Name: Natirar Mansion – opening Spring 2020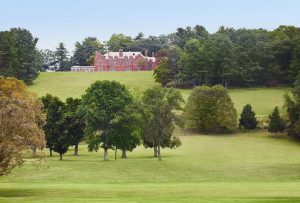 No. of Keys: 66 rooms and suites
Seller: Formerly owned by the late King Hassan II of Morocco, the house was originally completed in 1912 as an estate home for heiress Kate Macy Ladd and husband Walter Ladd.
Currently consisting of the award-winning Ninety Acres Restaurant & Cooking School, a sustainable farm, the Mansion Ballroom banquet facility, and a private membership club.
Buyer: Pendry Hotels (parent: Montage International) will re-brand the property as Pendry Natirar and Pendry Residences Natirar.
Described as one of America's finest country estates, the Tudor-style 33,000-square-foot Natirar Mansion, the house has an interesting history.
"We could not be more honoured to be stewards of Natirar," said Alan Fuerstman, founder, chairman and CEO of Montage International, Pendry's parent company.
Montage have seven hotels, resorts and residences in the USA, mainly on the West Coast, and one in Mexico.
"To be able to take one of the country's most idyllic country estates and reinvigorate it with new life that makes it accessible to guests, club members and homeowners is an incredible opportunity."
In addition to adding the Pendry Natirar hotel, developer Robert Wojtowicz is also expanding the property to include a luxury residential development.
Called Pendry Residences Natirar, it will give owners the ability to immerse themselves in a community focused on sustainable living, wellness and connection to nature;
Accompanied by the personalised services and amenities of the hotel component. Designed by renowned architect, Bob Hillier, the residences will be priced from $1.4 million to more than $3 million, depending on the size and interior finishes that are selected.
Pendry Residences Natirar will offer 24 private, whole-ownership Estate and Farm Villas created for luxury, country-style living. "We will have the unique opportunity to bring to buyers a resort residential lifestyle within a private gated enclave," says Wojtowicz.
Set within a private gated enclave named Abby Road within the 90-acre resort property, the Estate Villas will offer semi-custom homes and will feature expansive views and options to personalize selections and home configurations. The residences are designed to deliver hassle-free living with privacy and up to 4,000 square feet of living space.
Farm Villas will have a direct backyard connection to the Natirar Farm. The modern farm villa design will offer fully furnished, two-bedroom, 2,400-square-foot homes with residential amenities that inspire the ultimate indoor-outdoor experience, such as plunge pools and custom designed gardens that will be tended to and managed by Natirar.
The villas will be fully integrated into the Natirar 12-acre farm, and will provide a unique connection to country living, including the ability to have fresh harvests from the farm delivered to their doorstep daily.
THPT Comment: Wow, what a fab development…Montage hotels are beautiful, interesting move to open in New Jersey. Pendry, headed up by Alan Fuerstman's son, Michael, has four hotels pre Natirar, including one in NY itself.
First Seen: Boutique Hotel News