Location: Walking Distance to MediaCityUK and Manchester United FC, Old Trafford, Manchester, England, UK

Name: Currently the Ernest Terah Pub…was The Village Inn
Guide Price: £1.3m
No. of Keys: Plan to Make 75 Rooms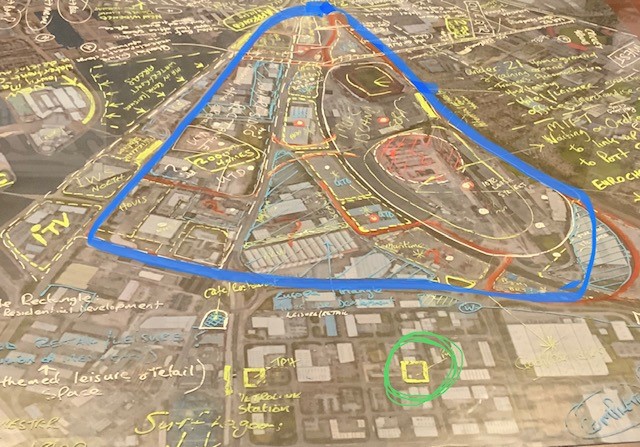 The pub is marked in green, with the Trafford Wharf Road site, Trafford Park has become one of the most sort after locations for investor developers from both home and abroad, land and properties are being snapped up, sometimes even before coming to market.
The Opportunity: To acquire this family-owned well-located pub, currently a popular venue when Manchester United are playing at home. The pub has a long history behind it, but most importantly is it's location in the heart of Trafford Park, within easy walking distance of Manchester United FC, BBC/ITV MediaCityUK, Imperial War Museum North, Lowry Theatre and shopping mall, Lancashire County Cricket Ground, The well known Trafford Centre with its shops, restaurants and bars.
The site is also on the doorstep of the Wharfside Rectangle and the Europa Triangle an area which has been granted change of use to house a multitude of developments which will include over two thousand homes, offices, leisure and retail, the first of which has just been completed and almost sold out already. The adjacent Hilti HQ site has sold to Pitalia Real Estate and CTP and the 2.2 acre site, tipped to be redeveloped as a mixed-use scheme, featuring 500 homes.
One can visit the Trafford MBC site to see the Masterplan for the entire area. It is believed that MUFC are also due to announce a new state of the art stadium build which will be located on what is now MIFT or the Manchester International Freight Terminal.
In June 2020, Therme Group, the operator behind the £250m leisure resort planned in Trafford Park,  has confirmed plans are still in place to begin construction in 2021, despite potential Covid-19 delays. Set to open in 2023, the 700,000 sq ft project on Barton Dock Road will combine water-based activities with well-being treatments, art, nature and technology. Under the plans, Therme Manchester is to occupy the 28-acre site currently occupied by Event City.
The resort will contain a two-acre well-being garden and a large family zone with a wave pool, waterslides, indoor and outdoor pools and steam rooms, which is all expected to attract up to two million visitors per year. A dedicated adults' area will feature warm-water lagoons set within a backdrop of botanical gardens, swim-up bars and therapeutic mineral baths.
The tropical environment is due to include a large family area with water slides, a wave pool, indoor and outdoor pools, steam rooms, exotic palm tree, and relaxation areas.
In the last couple of months other announcements have been made including a land swap between Peel Holdings and Salford Council. This land is now the final piece in the jigsaw that allows the rail link to Port Salford, this will eventually free up the MUFC owned MIFT Freightliner site allowing them, finally, full control of the whole site which will form Manchester United Island. Any sites that become available now are immediately bought up like the former Hilti site above, which has only just become available.
In addition to this Peel Holdings announced confirmation for the new 3,000 home £1billion Trafford Waters Village next to The Trafford Centre.
The owners have a pre-planning application approved, and plan to obtain outline planning consent with the next 12 weeks ((September 2021) leavinf it free for a new owner to apply for for full planning permission, post sale, to knock down the pub and develop a 75-room hotel. The floorplate is 7,500 sqf and we believe the hotel could go four storys high.
Main Picture: The exterior of the current pub, when it was called The Village Inn
Current Owner: Private family company
Flag and Management: Free to new owner.
Financials: Planning permission info and development plan available after LOI/EOI
Tenure: Freehold
Agent: THPT is direct to the owners
Guide Price: £1.3m
Date Posted: June 2021
THPT Comment: Wow who knew so much development was going on in this Trafford Park area of Manchester. This is a fab opportunity to develop a brand new three or four star hotel, in a great up and coming part of Manchester.
This is a new feature on the THPT site…. Hotel & Serviced Apartment owners can be naturally reticent in publicising their property is for sale…for confidentiality reasons, for staff and current client reasons, so the properties featured in this section will either be "generic" or "name specific"
Each fortnight we mail the opportunities posted that week, but check-out the tab "Hotels Available" and call us for details of "Under the Table" – deals not posted on the site at all
The Hotel Property Team (THPT) is a small group of highly experienced business professionals. Between us, we provide a range of skills and experience which is directly relevant to those involved in the hotel property market.
For more information – Visit www.thpt.co.uk or email info@thpt.co.uk.
MISREPRESENTATION ACT 1967. This information is provided as a general guide and is not intended to be constructed as a statement of fact upon which interested parties can rely. All interested parties should make their enquiries by inspection or otherwise. Neither The Hotel Property Team (trading name of Impetus Marketing 2006 Ltd) nor any person in our employment has the authority to make, give or imply any representation or warranty whatsoever relating to the premises referred to in these particulars. These details do not constitute any offer, contract or any part thereof and all negotiations relating to the premises should be conducted through THPT.