Main Photo: The Grand Hotel Savoia
Date: February 2021
Location: Cortina d'Amprezzo, The Dolomites, Italy
Name: The Grand Hotel Savoia Cortina d'Amprezzo, A Radisson Collection Hotel and Radisson Residences Savoia Palace
No. of Keys: 126 rooms, including 27 suites and 44 apartments
Seller: The hotel was constructed in 1912 and sits at the cultural heart of this remarkable mountain town. Boasting a long and distinguished history, the hotel has welcomed a great number of notable personalities as its guests, including world leaders and stars of the silver screen. Charlton Heston, Sophia Loren, Winston Churchill, Tolstoy, Umberto di Savoia, Franklin D Roosevelt.
Buyer: The historic Grand Hotel Savoia Cortina d'Ampezzo, A Radisson Collection Hotel, and the Radisson Residences Savoia Palace opened their doors following an extensive renovation, while still maintaining both properties' unique alpine identities. Cortina d'Ampezzo is one of the world's leading year-round resort destinations offering world-class skiing and snowboarding in the winter and hiking, biking, and rock climbing in the summer.
Built in 1912, the Grand Hotel Savoia Cortina d'Ampezzo remains true to its original Art Nouveau style as a symbol of Italian elegance and contemporary style. The 5-star hotel recently joined Radisson Hotel Group and is operated by Zeus International. Strategically located in the centre of Cortina, the hotel features 126 guest rooms, including 19 junior suites and 8 suites, a lobby and cigar bar, as well as a relaxing wellness and spa area. The hotel's three unique dining concepts Ristorante Savoy, 1224 Bar Lounge, and 1224 Terrazza, will offer truly extraordinary gastronomic experiences. Designed with a timeless elegance, the hotel merges the sophisticated and modern with a décor that is inspired by the essential lines of the Radisson Collection brand, as well as the seductive style of Italian design. With 600sqm of hi-tech meeting and events space, the hotel has the largest conference area in Cortina.
The Radisson Residences Savoia Palace Cortina d'Ampezzo offer 44 well-appointed, open plan apartments with spacious interiors inspired by traditional mountain chalets. The large suites and apartments feature a cozy ambience where guests can relax in the comfortable living space filled with natural light, and are the ideal choice for families and groups of friends.
Yilmaz Yildirimlar, Area Senior Vice President Central & Eastern Europe, Russia and Turkey at Radisson Hotel Group, said: "After an extensive rebranding phase, we are delighted to open our next iconic landmark properties in the heart of the Dolomites, and look forward to welcoming and creating memorable moments in a safe environment for all our guests. This marks our fifth Radisson Collection in the region and the very first Radisson branded property in Italy as we continue to strengthen further our awareness and our reputation locally as a strong international hotel player."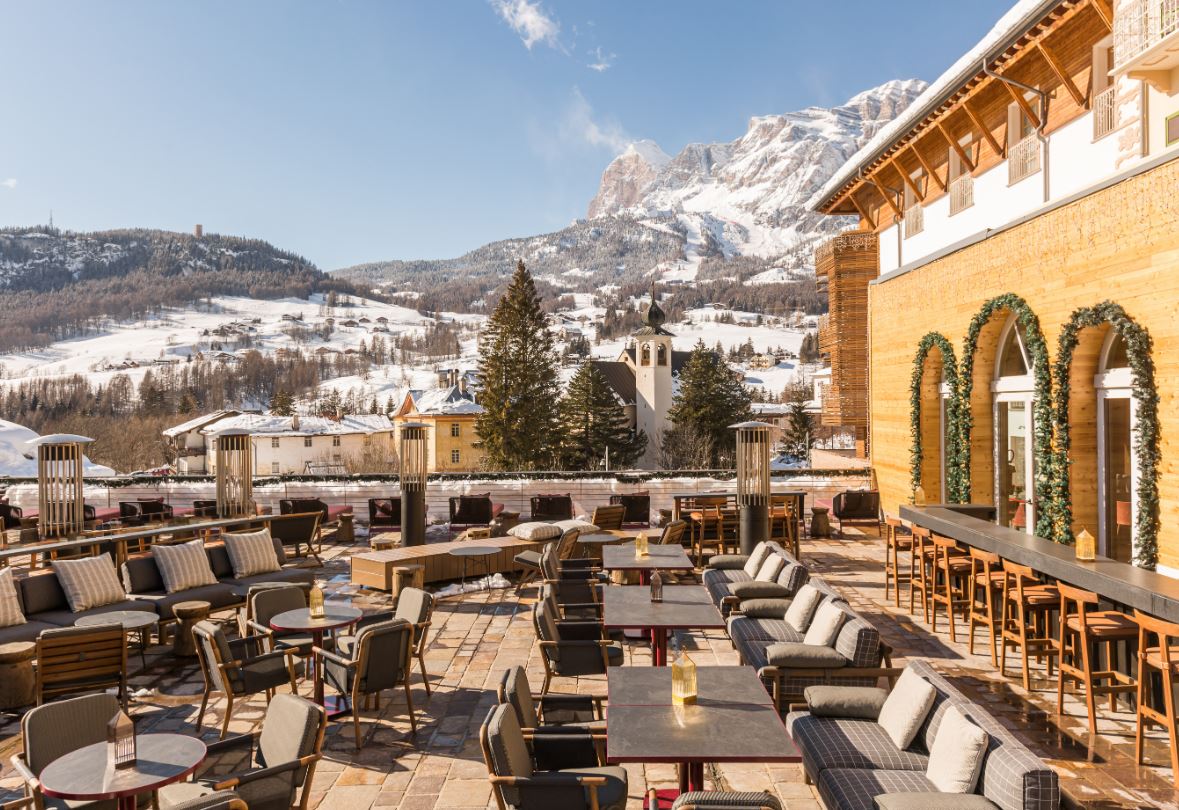 Both properties have opened in time for the Alpine World Ski Championships Cortina 2021, which will be held until 21 February. "The World Ski Championships are a key event for Cortina and the local community. Our resort is ready to welcome guests in line with local government health and safety guidelines, and the Radisson Hotels Safety Protocol. This year, the Grand Hotel Savoia Cortina d'Ampezzo, A Radisson Collection Hotel is proud to be hosting the sponsoring teams travelling to Cortina for the championship and we look forward to a long ski season ahead," confirms Rosanna Conti, General Manager of the hotels.
ZEUS International, with offices in Athens, Milan, Bucharest, Nicosia and Sofia, they have established themselves as one of the leading hotel management companies within Greece, and with reach across Italy, Cyprus, and Romania. Operating more than 3,500 rooms in 22 hotels, their expansion plan is to grow within Europe with several properties planned to open at the end of 2021 and within the first quarter of 2022. The company's vision is to have a developed and managed property in every major city and destination throughout Western and Eastern Europe within the next five years.
The current portfolio of key partnerships includes projects with key funds and companies such as Bain Capital, Invel Real Estate Partners, B2K Capital, Viohalco Group, as well as cooperation with hotel brands such as Radisson Hotels, Hilton Hotels and Wyndham Hotels.
THPT Comment: Fab restoration of this traditional in the heart of the Dolomites. Well done Radisson with this relatively new brand.
First Seen: Hotel News Resource
The Hotel Property Team (THPT) is a small group of highly experienced business professionals. Between us, we provide a range of skills and experience which is directly relevant to those involved in the hotel property market.
For more information – Visit www.thpt.co.uk or email info@thpt.co.uk