Date: February 2018
The Event: The (15th) Annual Hotel Conference, Hilton Manchester Deansgate
When: October 10th and 11th, 2018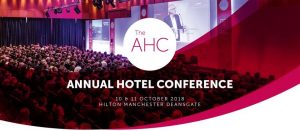 THPT Comment: this event has established itself as a mini-IHIF (Berlin, 5th – 7th March) and is more manageable in terms of getting to meet everyone, albeit is more UK focused than the big one in Berlin.
To encourage more hoteliers to attend and even our the ratio between agents and hotels, they are continuing to offer a heavily discounted hotelier rate available to owners of up to ten self-operated properties in the UK.
The show was sold to Questex in 2016 and despite fears that the big guys might over-commercialise the event, 2017 was a delight to attend!
Contact: Rowan Scahill for further information on hotelier rate.
Further details on speakers, educational programme and multiple networking occasions will be announced over the coming weeks.
For information on the remaining sponsorship and exhibition opportunities available, contact Mark Cheney