Date: February 2018
Location: Shanghai's Xuhui Riverside area known as West Bund, China and others (Rome, opening 2019 and Jeddah, Saudi Arabia – opened November 2016).
Name: The Westbund Hotel Shanghai – opening 2019
No. of Keys: 240 rooms and suites
Seller:  Rocco Forte Hotels is the exclusive luxury international hotel provider to the project, having been selected by the founders, Longhua Internation at the Longhua International Aviation Service Centre.
Buyer: Rocco Forte Hotels with the hotel opening in 2019, constituting the group's first move into the Asia Pacific market.
The new modern area will span 7.2 hectares, with an overall floor space of 510,000 square metres dedicated to business and government office spaces, retail and fashion outlets, cultural amenities such as theatres, and other landscaped recreational spaces.
The hotel will take over the top 15 floors of the newly created tallest building of the development and will include around 240 rooms and suites, all with views of the city, with a swimming pool and spa on the 52nd floor.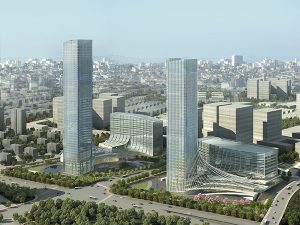 Sir Rocco has also announced that a second Rocco Forte hotel will open in Rome in 2019, following the ongoing success of the Hotel de Russie, the renowned Rocco Forte Hotels property in the city.
Rocco Forte Hotels will redevelop Hotel De La Ville in partnership with the real estate division of Reale Group.
Perched at the summit of the Spanish Steps, in the very heart of the city, the new hotel will have 105 rooms and echo Hotel de Russie and the other Rocco Forte Hotels in levels of comfort and luxury, with design by Tomasso Ziffer and Olga Polizzi.
Further announcements of developments will be made throughout the anniversary year of 2017–2018.
THPT Comment: Great to see Sir Rocco on the march with these new hotels, complementing some very fine hotels, and at the company's 20th anniversary (2017) and announcing that they will double the size of the company over the next five years.
First Seen: Rocco Forte Hotels website