Date: February 2018
Location: Corn Exchange, Manchester, UK
Name: Roomzzz Manchester Corn Exchange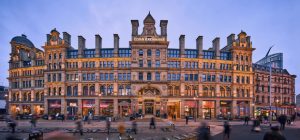 No. of Keys: 114
Owner/Developer: Aviva Investors Property Trust is the owner of the Corn Exchange, and is acting with Queensberry Real Estate as the developers. Jenics acted for Aviva Investors and Queensberry Real Estate.
Operator: Roomzzz headed up by Naveen Ahmed, CEO.
When it opens later this month, marking the completion of a three-year renovation project for the Grade II-listed building, Roomzzz Manchester Corn Exchange will be the eighth aparthotel in the firm's UK-wide portfolio
It is a key part of the £30m redevelopment of the Grade II listed Corn Exchange building which also includes 13 new independent restaurants and four retained restaurants.
The hotel's entrance will face Exchange Square, with guest accommodation over the second, third, fourth, and fifth floors.
Christie & Co acted for Roomzzz.
The others Roomzzz properties are in Chester, Manchester (2nd property), Leeds, Newcastle and Nottingham.
Roomzzz plans to open further sites in Liverpool, Harrogate, York and Edinburgh in the near future.
THPT Comment: This further demonstrates the rise in popularity and in particular how well Roomzzz has done since it's start in 2006. Like many Asian hoteliers in the UK, Naveen arrived in the UK, aged 13, from Malawi, East Africa…in 2016 his property empire (under the banner of Park Lane) was thought to be worth £200m. More info can be read here.
First Seen: Manchester Evening News and BDaily Marketing